As someone who runs her business from home, I spend a lot of time confined within the walls of my office. While designing the space, I needed to ensure that I added a few personal touches to help make a #BrighterDifference in my day. Little things matter! Believe me, they do! Neutrogena Naturals asked me to write a post about my top picks and I am so happy they did because these tips will help you brighten your everyday routine with little to no effort required.
Color And Light:
When picking a space to spend the majority of my time in, I knew that opting for light colors for my walls and furniture was key. It's very unusual to have pink as the base of an office in a ranch house, but I couldn't resist. As soon as I step in, I feel lighter. I feel energized. Color and light can truly transform a mood and inspire.
We also chose a room that had an ample supply of natural light which makes it easy for me to surround myself with plenty of sunshine.
Suggestion: Think outside the box when designing your own space – even if it goes against the grain. We no longer have to live in a time ruled by the neutrality of beige.
Scent:
This is a bit of a long story, but I will try to shorten it for you. As a joke, I bought an aroma diffuser while out with friends because we spent too much time in this amazing store in NYC and I just got suckered into the purchase by a saleswoman. Fast forward three days later, and I realized I had no clue how I lived without the tool prior to the purchase. Now, my diffuser has become part of my life. It is the air I breathe. Literally. I absolutely love choosing my scent every morning and my children do too. It truly changes the feel of the room.
Suggestion: Buy a diffuser. Period.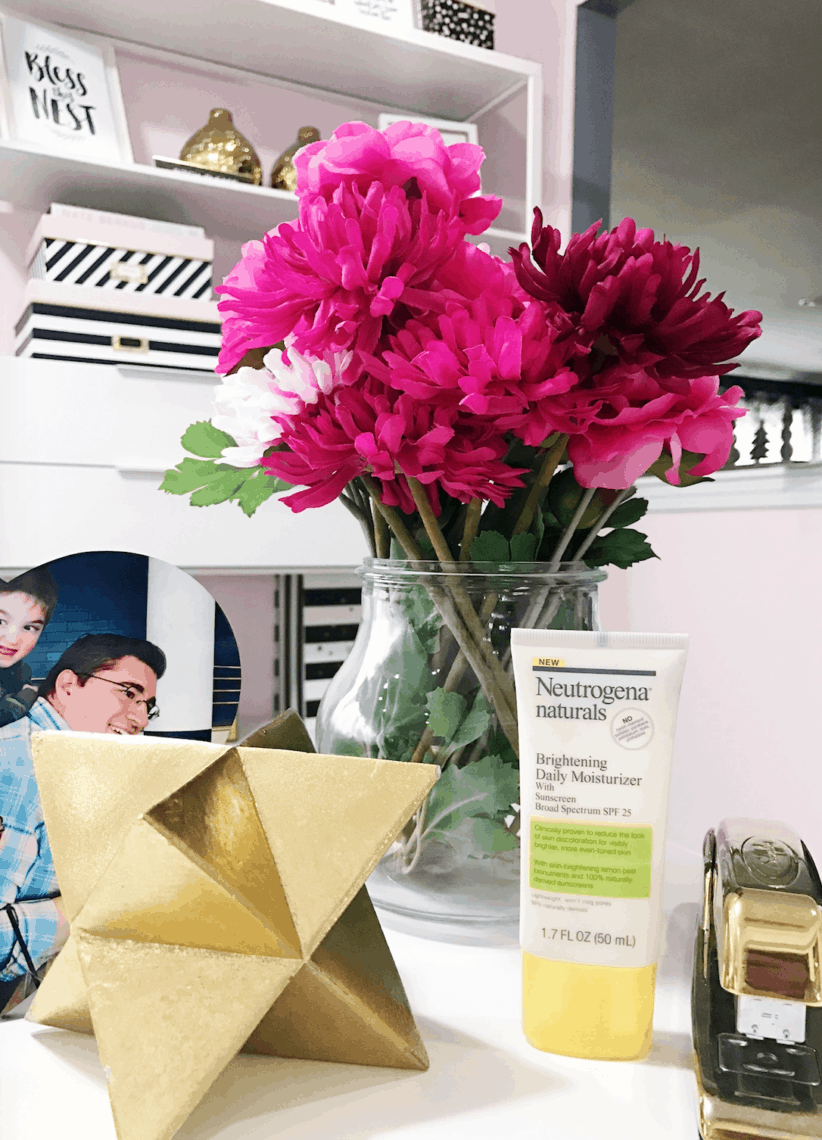 Feel:
On my desk, I keep Neutrogena® Naturals Brightening Daily Moisturizer with Sunscreen Broad Spectrum SPF 25. I tend to have drier skin than most and always need to have lotion nearby to rectify any issues. This lightweight formula with 94% naturally derived ingredients provides moisturization while skin-brightening lemon peel, an effective bionutrient, works with your skin to even skin tone in just 4 weeks.  Whether I need a touch up for moisturization or if I need to brighten my look because I'm about to shoot a video or head out to meet friends, Neutrogena Naturals has me covered. And don't worry! this lightweight formula won't clog your pores as it provides 100% naturally derived sunscreen with broad spectrum UVA/UVB protection.
Suggestion: Leave a bottle of Neutrogena Naturals in your desk drawer for the next time you need to brighten your day.
Decorations:
While I would prefer to have fresh flowers on my desk, I have to be honest with you – that's just not possible for someone like me. I'm not the best at the upkeep. So, what did I do? I opted for bright and bold fake flowers and they are everything! They bring the exact amount of "pop" that I need for my lightly colored walls and give my white desk the perfect accessory to help brighten up my day – every day. No water needed!
As far as inspiration is concerned, I surrounded myself with quotes that push me forward.
Suggestions: Check out local artists and fill your walls with inspirational quotes that move you.
Do you have any tips that help make a brighter difference in your day? I would love to hear it! Neutrogena Naturals is a great way to your day and to keep it going strong throughout.
*this is a sponsored post