Yesterday was a long day and not even the OFFICIAL FIRST DAY of the conference. I mean – my body quite literally collapsed on me. I was SURE that I came in contact with a parasite.  PAIN in my back and legs – to the point where we had to cancel the last three events of the evening.
I'm sure Audrey was a bit upset, but I COULDN'T WALK. NO KIDDING. I was even a little scared – like something bad was going on and I needed to go to the hospital. Turns out – I walked too much in heels (something I haven't worn in about 6 months) and I think I hit a nerve the wrong way. And truth be told, they weren't even heels – they were freaking wedges. My body rejected the notion completely.
UGH – talk about bad timing.
I mean granted – I did have a FULL day. We were on our feet for a good 12 hours  – and once you anger a nerve… there's nothing left to do. So after hanging at the CVS booth for a while, Audrey and I headed right up to our room and ordered in dinner. She took care of me until I passed out. Thankfully, I woke up feeling much better.
Ok – onto the actual CONFERENCE. The entire day was sponsored by P&G and there was session after session of information / pampering from some of our favorite brands. OF COURSE we all went to Tide.
Then our dear friend Lindsay Maines invited Audrey to speak at her conference geared towards authors and those looking to become authors. Audrey just wrote The Digital Mom Handbook: How to Blog, Vlog, Tweet, and Facebook Your Way to a Dream Career at Home
' with partner Colleen Padilla and had the opportunity to talk about her message to the group. It was such a great event!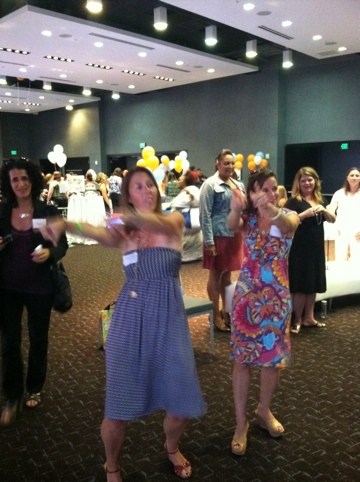 Off to 'The Big Toy Book' party where we checked out what is up and coming in the industry. Here's Whitney and Julie playing the XBox Kinect. Audrey has a video of the two of us dancing – as soon as she sends it to me I will post. 🙂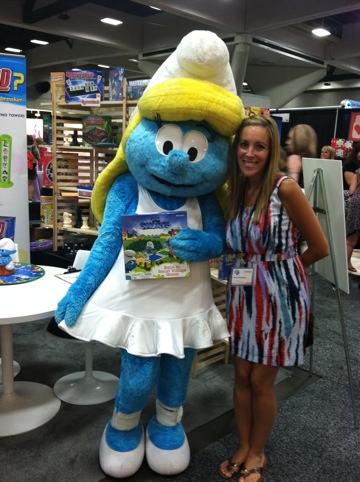 At this point, I switched my shoes back to flip flops because I was starting to really hurt. We headed to the opening of the expo to be with CVS at their booth. Ran to take a pic with the Smurfs before the chaos began …
And then HER interviewed me – though I'm not so sure what HER is. I wasn't special or anything – they were just walking around grabbing people. They caught us while we were walking out and while my back was vibrating with pain.
And that ended our night – we missed out on a lot of pretty cool parties… but it is what it is. Hopefully, today will be better. 🙂