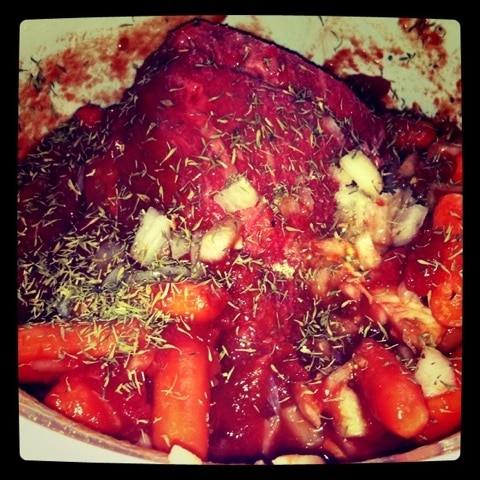 When I was flying home from LA, all I kept thinking about was how badly I wanted to cook for my family. It was the strangest sensation but one that I needed to satisfy. I had a TON OF CATCH UP TO DO THOUGH. I'm talking at least 8 hours of sitting in front of the computer fielding through email requests. It was insane – but I wanted to get it over with so I could enjoy my weekend.
So, instead of slaving over a hot stove all day – I crock potted it. Yes, that's a verb. 🙂 Pot Roast is super easy.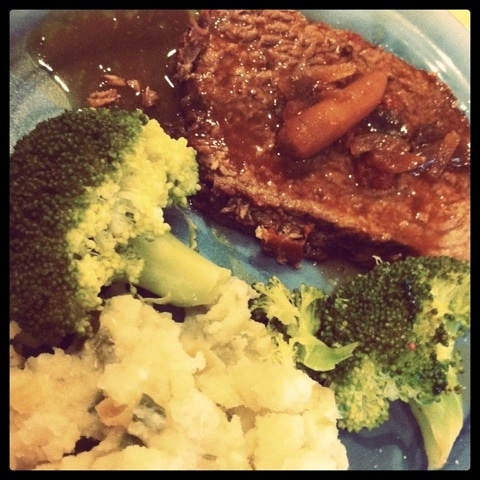 I also made handmade mashed potatoes. I should have taken step by step pics – but how can you do that with a crock pot? You put it in. You take it out. 🙂
Another blessing was the fact that Natalie had a play date right after school which gave me a little more time to get back on my feet. They made cookies! How absolutely fabulous!! She was RAVING about how much fun she had. We each had one after dinner. Natalie was so proud that she made us a treat.
Then… we brought down all the Halloween stuff and went to TOWN. Windows, outside, inside, you name it! It took hours to do it all but the kids are FLIPPING OUT NOW. They LOVE THE LIGHTS!! I cheat each holiday. I always keep some of the decorations they make at school the year before. This way I instantly  have things to tape on my window. Otherwise, you get all the good stuff a few days before the actual holiday. 🙂
When do you actually start decorating for Halloween? Do you do anything special?