Over the weekend, I had a Halloween party that required us to dress up in costume. For WEEKS, I was searching for a non-slutty costume and ended up purchasing Sookie's Merlots uniform. If you watch 'True Blood' – and are a FAN like I am – you KNOW what Merlots is.
I even bought an 'I Love Eric Northman' button trying to be funny – because if I had to personally choose  – Biiiillllllll would be thrown to the curb in a non-heartbeat.
So, I get to the party and everyone is dressed up… and most thought  I was a Houlihan's waitress. I was like…. no it's 'True Blood'. Do you watch 'True Blood'? 100% of the people at the party did not watch the HBO show.
What is the probability of that? All of my online friends / blogging buddies are OBSESSED with 'True Blood'. But ironically enough – NO ONE AT THIS PARTY WAS.
Comical.
I still had fun though. Bill was in character… as Bill. Another joke no one got. LOL!!!!
Had to take a picture of these cake pops one of the guests made. HOW CUTE ARE THEY!!!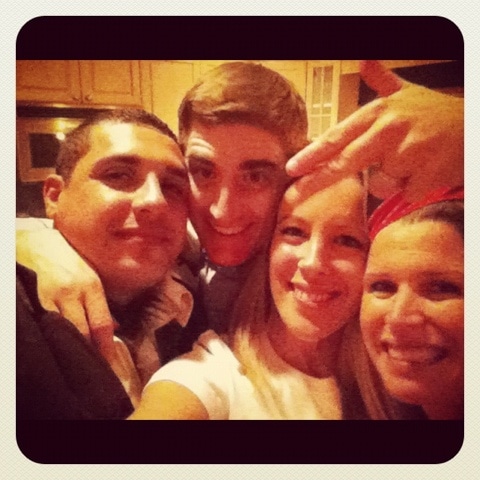 By the end of the night, we got really friendly with another couple. I am sure they will become one of our partners in crime. 🙂
Awesome party despite my costume disaster. We had a LOT of fun.
Fast forward to Sunday morning.
Natalie waited ALL YEAR for this Halloween weekend. I've been telling her since January that for Halloween she can wear makeup. OH MY GOODNESS!! She woke up screaming – TODAY RIGHT? I CAN PUT ON RED LIPSTICK TODAY!!!?
Then I took my family to a Halloween brunch to also celebrate Sandra's 18th birthday – my first cousin. I used to live with her for many, many years so she's like my sister.
And then my other cousin mixed a Corona with tomato juice and drank it. Have you ever tried this?
I made Bill try it and he said it wasn't bad.
A little dancing, pumpkin coloring, and some more pics rounded out our day.
And now… today… we get to actually celebrate on the big day. It's been Halloween for us all month long. I'm actually looking forward to tonight when it's over. I'm D-O-N-E.