Lots of pictures in this post folks – so please forgive me in advance. This weekend we drove up to Rhode Island to spend a few days with the McClellands. After taking a ferry and driving for a few hours, we ended up arriving pretty late on Friday. BUT that didn't stop the kids from partying until midnight.  My children have NEVER stayed up that late – not even on Christmas!! They were in their glory.
On Saturday morning, they all woke up to donuts for breakfast. My daughter is convinced the McClelland household is the coolest on the planet.
It's funny because I feel like all we did this weekend was EAT. LOL! After a quick shopping trip to the Gap (I will post a video soon), we headed to Hibachi.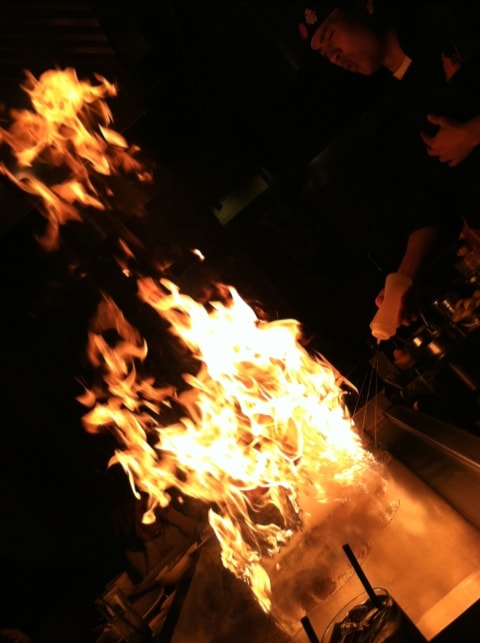 This place was no Benihana with their little volcano flame. These chefs were out of control. I just happened to take a pic at the exact moment the freaking fire exploded off of the grill. Henry practically flew out of his seat. 🙂
Everyone had a great time and we ate until we couldn't eat anymore.
Then we went BOWLING!!!! How fun! The kids had one lane and the adults had another. I broke 100 – but by the skin of my teeth. It was a poor show to say the least.
Natalie was in her GLORY. She loves William and is always so happy to see him.
At the end of the night, I asked the kids to give me their angriest faces. 🙂
Then guess what we did after bowling? We went to a dessert shop! Oh my gosh – I'm just SICK thinking about it all. I ordered a tall hot chocolate.
… and a lemon meringue  pie and a brownie. In my DEFENSE  – I didn't eat the brownie and only had a few bites of the pie.
Natalie ordered a cupcake. That is NOT a cupcake! Look at how BIG that thing is!!!!!!!!!!!!!!!
Luckily, she had help eating it. 🙂
In the end, we had a GREAT weekend. The kids love one another and we love Audrey and Matt. I wished they lived closer…
On our way home, Liam got reacquainted with his DS.
And Natalie PASSED OUT!!! 🙂
What did you do this weekend?