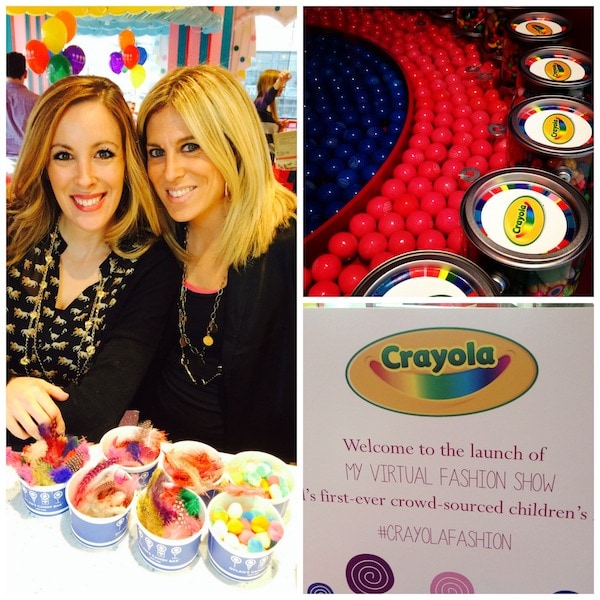 Audrey and I had the pleasure of hosting last night's Crayola event in NYC. The brand was proud to introduce the 'My Virtual Fashion Show' app and we were so excited to share it with our blogging friends.
Are you ready for this? This app combines the best features from the old (the way I grew up) and the new (the way my children are growing up) and rolls it all up into one fun experience.
First, you have your child color in a dress design from the Crayola My Virtual Fashion Show kit. They can use any type of material you have on hand. Feathers, gems, glitter, markers, crayons – you name it!
Next, you need to down the 'My Virtual Fashion Show' App (here) and take a picture of the drawing. THEN….. WATCH THE PICTURE COME TO LIFE.
What? WHATTTTTT???!!!!!
Yes – it's true. The drawing actually walks the catwalk. Your child's dress gets to have a few seconds of fame with all that glitz and glam that red carpet celebs know and love. Can you stand it?!
The kids were going CRAZY. They kept drawing and recreating image after image using the craft items we placed on each table. The Crayola event took place at Dylan's Candy Bar. So, in between designs the little ones sipped hot chocolate and feasted on some sweet treats.
We had such an amazing time and the kids all enjoyed creating their runway looks! To learn more about Crayola's My Virtual Fashion Show App, be sure to click here.
* I was compensated to host this event.