I'm a pretty easy going kinda girl. Well, as long as things are as they should be. I'm not one to have my feathers ruffled unless something really out of whack happens. And this week, a restaurant just blew my flipping mind.
So here's the deal. I already showed you the pics of Natalie picking out her new American Girl Doll. This set is the rest of that day. Liam wanted to spend his birthday money at the Lego Store. It's his favorite place on the PLANET. Even though we were trying to convince him to go to the Toys R Us store instead – he wouldn't budge. It was the Lego Store or NOTHING!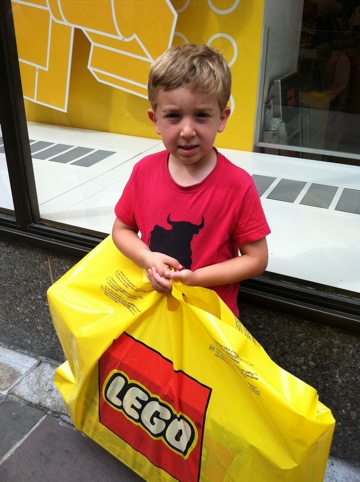 And $70 later – he got a set. CAN YOU BELIEVE IT?! I was like… $69.99 for ONE SET? It's his choice and he could spend his money on whatever he wanted – so we didn't complain in front of him… but OUCH.
Once the gifts were taken care of, we did a mini food tour. First up was Luke's Lobster. I am not a lobster fan (but I am slowly becoming one) and I have to say that this roll was FLIPPING FANTASTIC. I almost bought one that's how good it was.
Here's Bill devouring it – mad at me for snapping this personal moment. 🙂
Then we went to Mad Dog and Beans. The entire street is closed off – there's about 5 or 6 restaurants there – and our THOUGHT was that we would eat a little at each place and sample it all.
Liam would not SMILE!! We took like 5 pics and they all looked like this. 🙁
So, first up we got a bowl of guacamole (which was AWESOME) and corn with cheese (I forgot the proper name for this). A double order of guac was… $24. I brought the menu to my face to make sure I was reading it right. It was 100 degrees that day and I thought perhaps my eyes were giving out on me. But nope – it was right. $24 for guacamole. Can you IMAGINE????????? We ended up with a single and told the kids to ease up on the chips. We had to make that puppy last.
So, two appetizers for the 4 of us. Figured we'd do that throughout the entire block. However, once I finished up with these dishes – I was DONE! STUFFED.
I don't know what happened but I couldn't eat another thing…
S
Except for something sweet! Instead of having a meal – we opted for Financier. They had gelato and sorbet (as well as a full case of the most delicious pastries you can imagine). The flavors were…. INSANE. I'm talking peach, pear, black cherry, passion fruit. YES! YES! YES! I'm such a fruit flavor kinda girl and I was in heaven. The pear sorbet is to DIE FOR! Natalie wanted mint chocolate chip and it was GREAT too.
And I have to say the place is adorable! My pics don't do it justice but if you are downtown – you should plan to spend some time on that block (Stone Street) and make Financier your last stop.