Burt's Bees Debuts Two New Lipcare Products
I am a bit behind this year on my winter shopping. Last week, in an attempt to catch up my friend Joanne and I perused the current selection of neon henleys and floral print pants at Nordstrom in Union Square. As I hopefully (hopelessly) tried to find a winter coat in the midst Joanne delicately pointed out that "I was probably kidding myself."
Between the new collections and the then unseasonably warm weather, I have to admit that Spring is fast approaching. Later that same evening, I found further proof of pre-Spring cheer in peonies that popped out of pink vases and floral pop art splashed across the walls at the Burt's Bees new product launch.
In stores soon from Burt's Bees will be 100% Natural Lip Glosses ($9.00) in 12 shades and 100% Natural Lip Shines ($9.00) in 6 shades. The company is also amending their popular Tinted Lip Balms ($7.00) with 4 new shades. These products are exciting and logical new additions to a brand whose success is already rather ubiquitous: Burt's Bee's lip balm is the #1 lip balm SKU in the U.S.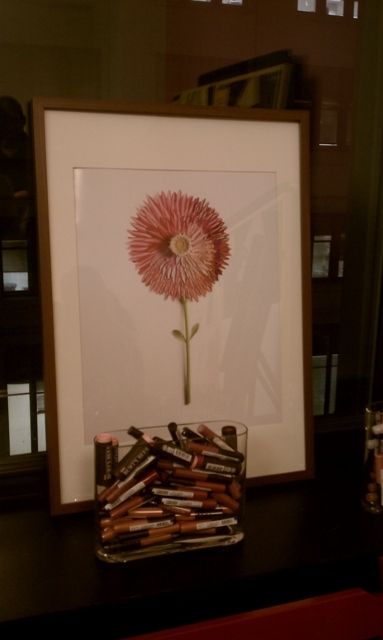 My favorite product that I sampled was the Lip Gloss in "Starry Night." Burt's Bees' celebrity makeup artist Katey Denno used this color over Burt's Lip Shimmer in "Plum" on Isla Fischer for this year's Golden Globes. I have often found that "natural" lip balms either apply very little color to your lips or wear off rather quickly. The shea butter in Burt's Bees formula allows for the layering effect Denno achieved, thereby creating intense and long-lasting color. And since none of Burt's products come without a corresponding care benefit, all of these glosses and shines provide the lips' thin skin with moisture via ingredients such as sunflower seed oil and apricot wax.
Culminating the night was an art therapy-esque painting project. With the help of artist Ari Lankin, I reacquainted myself with the paintbrush and exercised my inner Cezanne. Here's my canvas.
Just in case I had gotten any ideas about becoming a professional artist, perhaps Joanne can remind me that in this regard I may also be "kidding myself."
For all information on Burt's Bees new products and their complete line of face and body care please visit www.burtsbees.com.
By Allison Toombs