I've written about Le Pain Quotidien before (my babies look so small in those pics). So, it was no surprise that I had a GREAT breakfast yesterday morning while in the city with Audrey McClelland. We were taking a few 'Getting Gorgeous' meetings and met up with some friends in downtown Manhattan.
I ordered the Belgium Waffle – pictured above – and you better believe there wasn't a CRUMB left on my plate.  It's all so fresh and fabulous. My meal didn't come with syrup because the powdered sugar was supposed to do it for me. It didn't – so I had the waiter bring me some. Sheer bliss! The fresh fruit makes it healthy, right? hahahahaha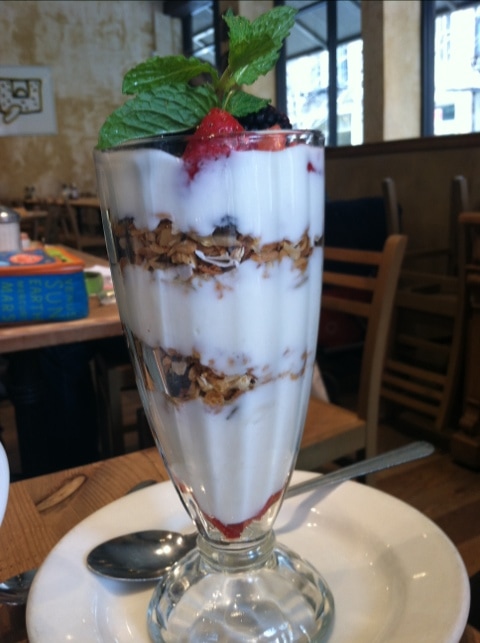 My friends opted for healthier options –  yogurt and scones – which looked equally as appetizing. It's a win-win-win. Seriously, one of my favorite franchised eateries to visit. If you are a local or a tourist – put Le Pain Quotidien on your list! I know they are all over the world – not just NYC. Have you ever been?