Ice cream! Glorious, glorious ice cream. How can you visit Burlington Vermont and not make the trek out to the Ben and Jerry Factory tour? Especially when there is a cone waiting for you at the end of it all. Pa-LEASE.
I want to give you fair warning — we have been getting a kick out of putting Caleb behind these sort of signs. So expect lots and lots of pictures of my little man all serious while being posed in a very NON-serious situation.
Hey! Where's the factory?! Yeah… I wasn't allowed to take any pictures of that. And look at me!! I listened. Believe me, there was a little devil on my shoulder telling me to go ahead and snap a photo or 6,000. But I didn't and I am a better person because of it.
Or something like that…
Anyway – at the end of the tour we were all able to taste some Ben and Jerry samples. Look at the size of those scoops! WOW!
Kids were happy happy.
Well… that is AFTER they found out that "Today's Special" actually WASN'T Broccoli Cheddar Chunk . LOVED this sign. Some people actually believed that this was what we were going to taste. I guess Ben and Jerry's really is known for mixing a variety of flavors together. But broccoli?? Come on people!
At the end of the tour, we all got a cone of our own. Can you please take a look at the scoops on this puppy. Are they kidding me?! I almost DIED when the kids were handed these monsters.
We (fake) gave Caleb a taste. It was actually pretty funny. We put the cone in his hand and he went to shove it right into his mouth. Bill had to jump in and stop him.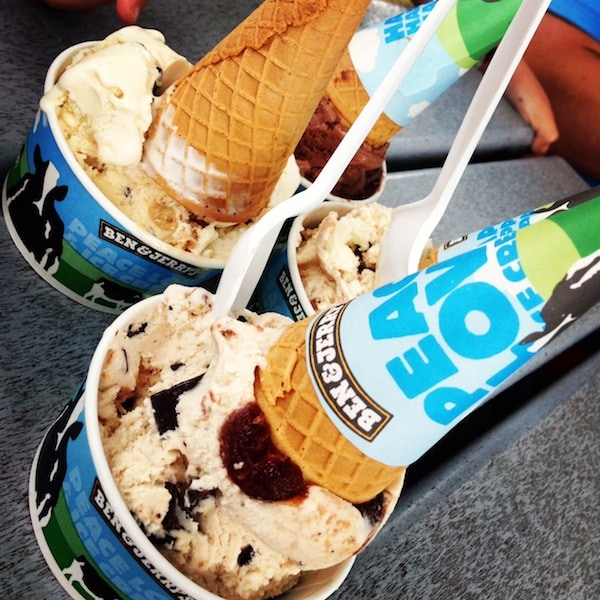 Cheers!
For information on the Ben and Jerry Factory Tour, click here.
* company provided tour tickets for review