Talk about a girl's day out! Natalie and I had the pleasure of attending the Ralph Lauren Fall / Holiday 2013 Girls Fashion Show. The theme? "A Day at the Stables" and they couldn't have picked a better setting. My daughter and I spent the afternoon getting manicures, munching on goods from Dylan's Candy Bar and checking out an entire collection of must-have pieces at Wölffer Stables in Sagaponack, NY.
Now my daughter wants to take riding lessons. But that's a whole different story.
This was a fashion show like no other. The Fall 2013 Runway Show was filled with moms and their little fashionistas. I absolutely loved sharing this experience with Natalie because it will be QUITE SOME TIME before I can bring her to NY Fashion Week.
Naturally, my daughter made friends pretty quickly with the other girls in our group and it didn't take long before they were running off to take pictures and drink tall glasses of cold lemonade.
And it wouldn't be a day in the Hamptons without some celebrity sightings. Jessica Alba (the host of the Ralph Lauren Runway Show), Christie Brinkley, Edie Falco, Lauren Bush, Kelly Bensimon, Tiffani Thiessen, and upcoming singing sensation Madison Beer were all in attendance and mingling with the crowd.
I happened to be around Edie and Tiffani several times throughout the day and I HAVE to say that they were just amazing with their little ones. It was so nice to see because at the end of it all we are all just moms who love our kids – regardless of how cool (or uncool) our jobs actually are. 🙂
Oh and PS – it took everything inside of me to not grab Tiffani and tell her how much I lived and died for 'Saved by the Bell' growing up. But I am SURE she has heard it a thousand times. So, I let her be — especially since she was with her daughter. But KNOW internally I was screaming it across the lawn.
 (Natalie posing with Dylan Lauren – founder of Dylan's Candy Bar)
Are you loving what Jessica is wearing because I DID? I have the full breakdown just in case you want to replicate:
Ralph Lauren Black Label polka dot dress
Ralph Lauren Double RL denim jacket
Ralph Lauren Collection cork and leather sandals
Ralph Lauren Collection black and white bi-color Soft Ricky
Ralph Lauren Vintage Collection silver and turquoise bracelet
Funny… I was going to wear the same EXACT thing. 🙂
Instead I opted for this. I was actually wearing WHITE PANTS that morning but then someone in my household decided to spit up sweet potato all over me. Not naming names… CALEB. You are lucky you are cute. So, I had to make a last minute change at 9AM and threw on these black pants. UGH. I was a bit out of season but what can a mom with throw up on her do? 🙂
Onto the show! There were a few rows at the very beginning of the stable and then a single row on each side all the way through. We were right at the end next to the photographers. It was SO EXCITING. The girls each opened up their folders and checked out the model line up. As each model walked by, Natalie mentally checked them off and said their name out loud. It was really cute.
Me? I did my back to school shopping. Yes to it all?
The music was PUMPING – perfect tunes for the mood. That Madison Beer is definitely one to watch out for. It's funny because she LOOKS like a Ralph Lauren model. You couldn't help but notice the similarity. Check her out – standing right next to Jessica.
(hanging with Nicole from MomTrends)
Once the show was over, we headed back outside to enjoy a  special performance from Madison as well as an afternoon of Hair Braiding, Nail Art by Essie and treats from Dylan's Candy Bar. Needless to say, my daughter was in her glory. She kept racing back for candy… and I kept telling her to go make another run for my favorites. LOL!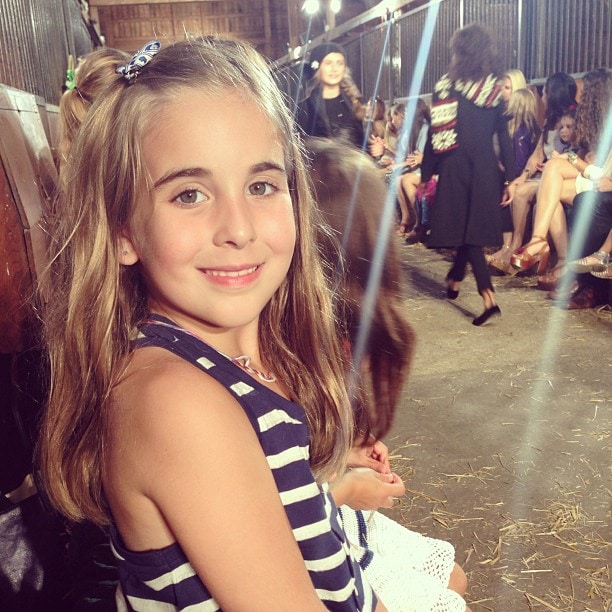 I have to say – it was such a wonderful experience to attend the Ralph Lauren Girl 2013 Fall / Holiday Fashion Show with my baby. I always love when I'm given an opportunity to do something special with my children through my job. And this was very, very special. Natalie's first fashion show. I mean…. I can't even handle this. It is a day I will never forget.
The Ralph Lauren Girls Fashion Show will be available to a global audience beginning September 5th on Ralphlauren.com and September 9th on Saks.com.
Photo Credit: BFAnyc.com