I'm continuing my Zootopia coverage this week with something SUPER FUN — toy and product coverage! You know that your little ones are going to want some merch after they see this film (which opens in theatres TOMORROW 3.4 AHHHHHHHH) — so here are some links to get you started. If you are looking for Zootopia toys, I have you covered. Here are my top picks and they all coincide with the movie. I even note my favorite Zootopia toy. Obsessed with it!
All The Zootopia Toys You'll Ever Want To Know About! #ZootopiaEvent
Disney Zootopia Exclusive Deluxe 10 Figure Character Play Set
Disney Infinity 3.0 Edition: Judy Hopps Figure
Disney Infinity 3.0 Edition: Nick Wilde Figure
Funko Mystery Mini Disney: Zootopia Figure – the kids love blind bags
Zootopia Little Golden Book (Disney Zootopia) – GREAT to have after the movie
Zootopia Small Plush Officer Judy Hopps – look at those EARS!
MY ABSOLUTE FAVORITE Zootopia toy — Zootopia Judy's Carrot Recorder And Badge
Zootopia: The Official Handbook (Disney Zootopia) (Official Guide) – it's OFFICIAL!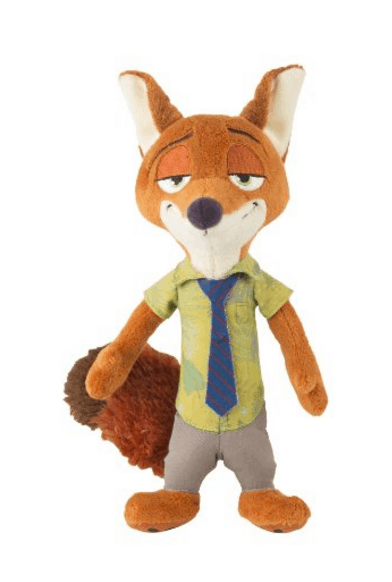 Zootopia Large Plush Nick Wilde – bought it
Zootopia Meter Maid Pursuit – a must
Disney Zootopia Judy Hopps Exclusive 15″ Plush – bought it.
Ultimate Sticker Book: Disney Zootopia (DK Ultimate Sticker Collections) – when I was younger, I was the president of a sticker club. Have I ever mentioned that before?
Gazelle "Tsum Tsum" Plush – Mini I am in LOVE with this.
Zootopia Sleep set for Boys – How adorable are these pajamas?
Gazelle Singing Doll – Zootopia Break out STAR in the movie and her song is super catchy. I can't stop singing it.
Mr. Big Plush – Zootopia – Mini Bean Bag – He was SO GOOD in the movie.
Judy Hopps iPhone 6 Case – Zootopia – My daughter literally wants this RIGHT NOW. LOL!
WOOH! That should get you started! There are so many different Zootopia toys, clothing, and accessories that are out to help promote Zootopia and I am so excited about it. I fell in love with each and every one of the characters — even the ones that only had very little screen time. In fact, some of them were my favorite!!
Which Zootopia toy was your favorite? Can you choose? It's hard, right? LOL!
****ZOOTOPIA RELEASES 3/4/16!!!****
Want To Read More Zootopia Coverage?
To find out more about Zootopia, please visit:
Disney invited me attend the press junket for Zootopia. All opinions are my own.