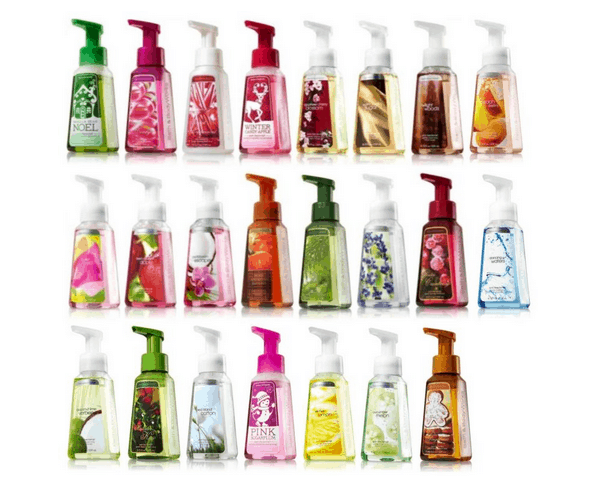 This is a true story. I have a friend – Barbara – who always has the best smelling soap in her house. Every time I wash my hands there, I give my palms a big SNIFF so I can appreciate her scent of choice. Her soaps always come from Bath and Body Works and she actually changes them around depending on what season we are in.
Every visit – and I mean every single visit – I tell her how much I LOVE HER SOAP and she always tells me… GO AND BUY IT THEN! And I never did. For years and years and year, I just never did.
It's ridiculous in all honesty. I just remembered being in High School and thinking that the prices were so expensive and out of my reach.
Well, yesterday I went to the mall because I wanted to buy some shorts from the Gap (which I will post about later) and decided to FINALLY step foot in Bath and Body Works. I was immediately greeted by a saleswoman and I told her I wanted the foaming soap.
She directed me to their wall and told me that they were 6 for $20. I said what???????????????
6 for $20? That is SO CHEAP!! For YEARS, I thought they were so expensive. I was leaning on a memory of a 14 year old girl. Of course $20 is expensive when you don't have a job. My mouth literally dropped. I mean – it's just about $3 a bottle. The saleswoman must have thought I was crazy because my response was so exaggerated. I didn't feel like explaining myself to her… so I stuck my tongue back in my mouth and carried on.
I picked out my 6 scents – put one in each of my bathrooms and near my kitchen sink and have been washing my hands ever since.
I am so HAPPY!!!!