It seems that every birthday Natalie knows exactly what she wants to do  – and it's head into NYC to 'The American Girl' Store. My daughter was born in June, but we always wait until after Liam's big day so we can make one trip. After all, their two favorite stores are across from one another. I will get to his pick tomorrow.
So, this year I allowed her to let Stacy (her doll) make an appointment at the hair salon. Oh my word… Natalie was DYING! She picked out the style she wanted for Stacy and watched in awe as her hair dresser got to work. I think the whole thing was $20. Pricy if you ask me – but for her special occasion… I didn't fight.
Besides, she had $200 in saved birthday money to play with and I wasn't going to tell her what to do with it.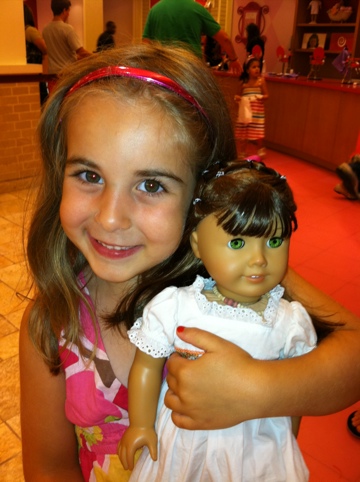 Ta Da!! A brand new Stacy! PS – if you comb the doll's hair – I was told that it should be WET. Don't comb dry. Spritz with water first.
Then we spent the next hour or so looking around the store and letting Natalie spend her money. Liam wasn't too thrilled – but he brought a Kinex box with him and literally carried it around like a doll. I was like… are you sure you don't want to bring a video game or something? Nope. He wanted that box. LOL!
We spent a few more hours in the city (i will post pics tomorrow) and then headed home.
That's when Natalie got to play with her new daughter Kit – aka Miss Rose. I asked her why she named her Miss Rose and Natalie had no answer. I thought that was such a cute name!
Have you been to The American Girl Doll Store? We go at least once a year – and it's really a treat for my daughter. {Here's the post from our last trip}