About The Rookie:
"The Rookie" airs Tuesdays at 10|9c on The ABC Television Network and is also available streaming (ABC app/ABC.com/Hulu) and on demand.
Starting over isn't easy, especially for small-town guy John Nolan who, after a life-altering incident, is pursuing his dream of being a Los Angeles police officer. As the force's oldest rookie, he's met with skepticism from some higher-ups who see him as just a walking midlife crisis. If he can't keep up with the young cops and the criminals, he'll be risking lives including his own. But if he can use his life experience, determination and sense of humor to give him an edge, he may just become a success in this new chapter of his life.
(ABC/Eric McCandless): NATHAN FILLION
(ABC/Eric McCandless) : NATHAN FILLION
(ABC/Eric McCandless): RICHARD T. JONES, NATHAN FILLION, ERIC WINTER
The Cast Of The Rookie:
The series stars Nathan Fillion as John Nolan, Alyssa Diaz as Angela Lopez, Richard T. Jones as Sergeant Wade Grey, Titus Makin as Jackson West, Mercedes Mason as Captain Zoe Andersen, Melissa O'Neil as Lucy Chen, Afton Williamson as Talia Bishop and Eric Winter as Tim Bradford.
Alexi Hawley is writer and executive producer; Mark Gordon, Nathan Fillion, Michelle Chapman and Jon Steinberg are executive producers on the series. Liz Friedlander directed and executive produced the first episode. Entertainment One (eOne) is the lead studio on "The Rookie," a co-production with ABC Studios.
About My Time On The Set Of The Rookie:

We were lucky enough to have a wonderful HOST all throughout the tour. Mercedes Mason – who plays Capt. Zoe Anderson – was so much FUN. She took us all throughout her everyday routine and answered every question we had. Even snapped a few funny photos with the group. Scroll down to see. The set was warm and friendly – even when we got to the detention center. LOL!

(ABC/Eric McCandless)
(ABC/Eric McCandless)
(ABC/Eric McCandless)
(ABC/Eric McCandless) – Mercedes Mason as Capt. Zoe Anderson
Things You Need To Know About The Rookie Set
When we first arrived, we were placed in a holding area because it was actually a live set. The team set up several TVs for us to use so we could keep up with the scenes. Since there were so many of us, we had to share headsets. So, we passed around the sets to one another to try to keep up with the context of the moment.
This area was the only part of the set that I saw that wasn't built out to look like it was part of the show. I guess you could say this was backstage. I am SURE they had plenty more storage somewhere else, but I didn't see it. I was kept right up front and honestly, I don't know how far back the entire set went. I will show you as much as I saw!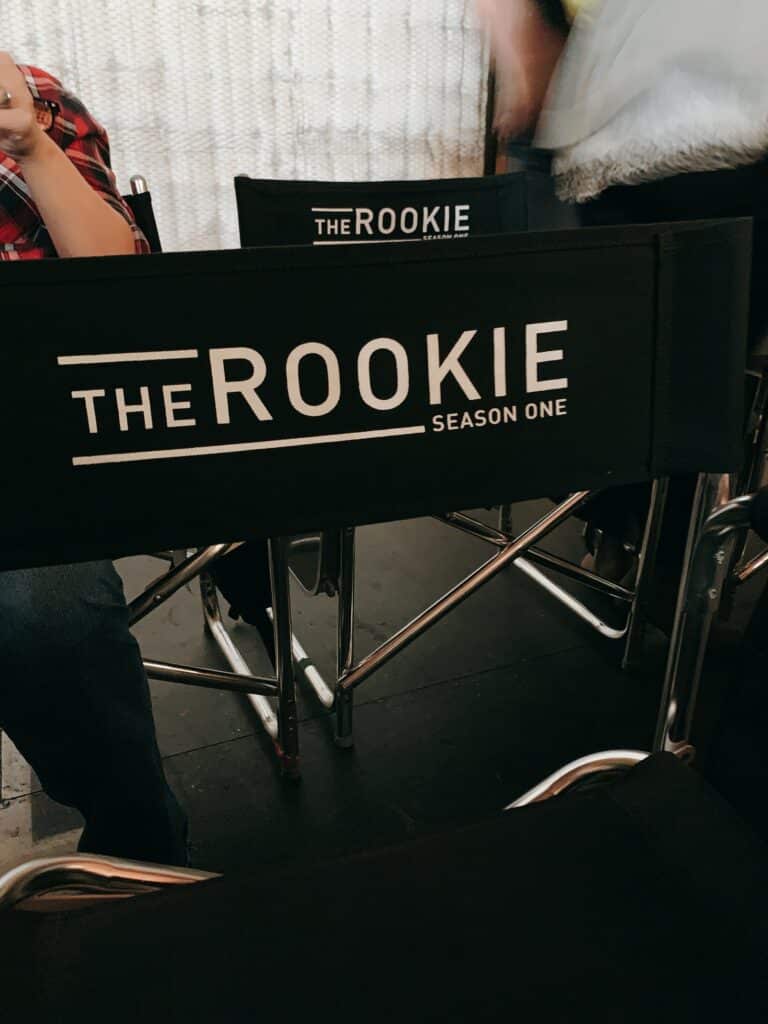 We all got to sit on these snazzy little seats which I thought was super fun.

And Mercedes Mason was walking us through everything that was happening. The Rookie set really was working like clockwork. Everyone was rushing around… but quietly. I couldn't tell you who was responsible for what, but I can say it was all running like a fine-tuned machine.
The Rookie Set Tour – Behind The Scenes

Then, in small groups, we were walked around inside the actual set.

This was the holding room I was talking about. They were setting up a detention center or a criminal staging room. All the extras were getting told what to do. To the left of us were two holding cells and The Rookie set even had a booking room.
I don't think I'm that tall, am I? LOL!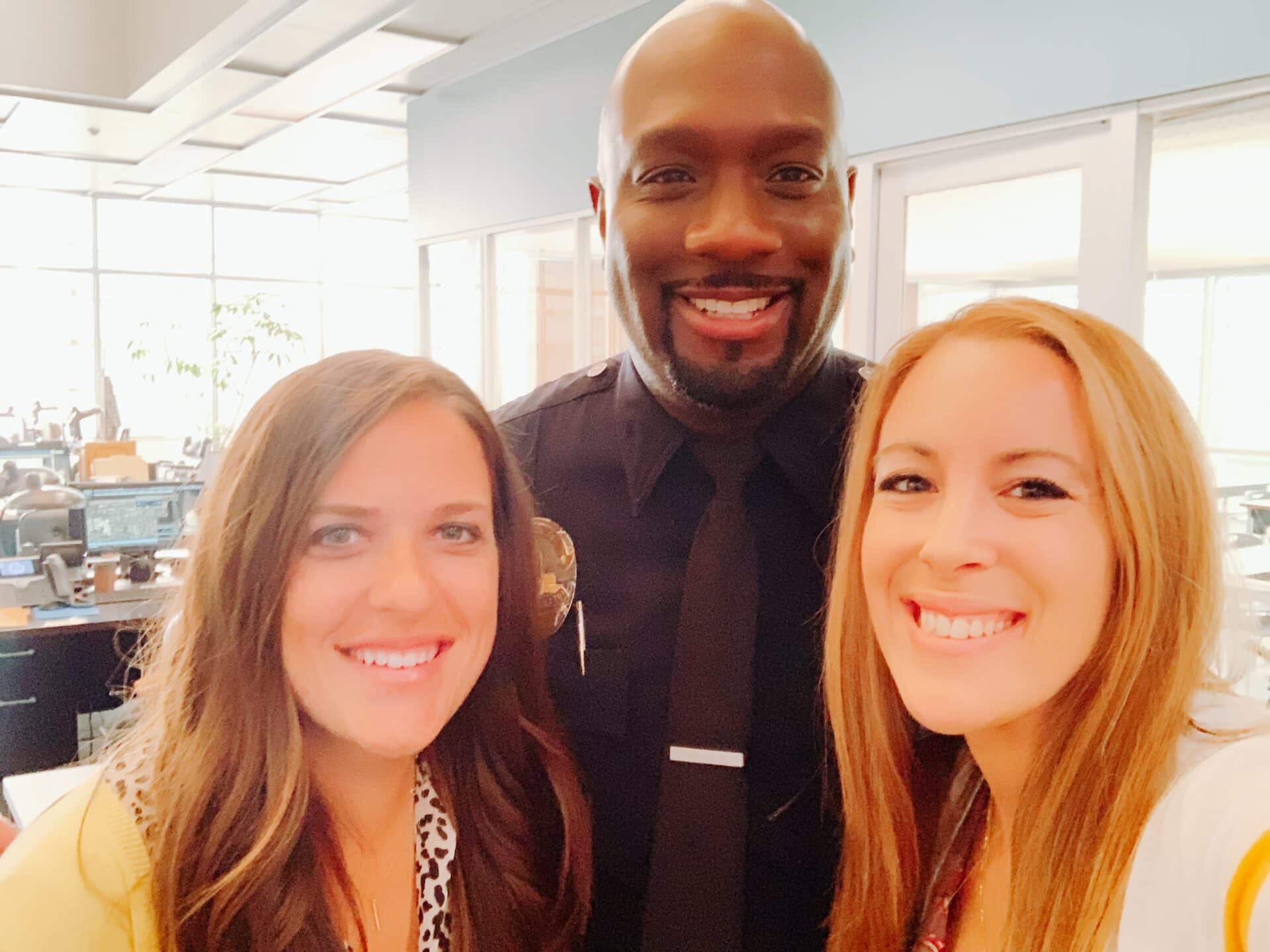 Richard T. Jones – who plays Sgt. Wade Grey – was kind enough to take a few selfies with us. I've watched him in a number of movies and TV shows. So, that was a real treat. I've enjoyed him for many years. I was excited to get one with him.
And then we got to tour the actual set of the Los Angeles Departement – Mid-Wilshire Division. It was super… clean and spacious and bright. I would love to work in a setting like that.
Again, Mercedes took some more photos with us and I got a little campy. I love to have fun with people and I couldn't help myself.
"The Rookie" airs Tuesdays at 10|9c on The ABC Television Network and is also available streaming (ABC app/ABC.com/Hulu) and on demand.
Will you watch? Are you a fan? Do you currently watch this show? What do you think of these Rookie set tour pictures? Would love to hear. This set was nothing like when we visited the set of A Safe Haven in North Carolina! Always love to see different behind the scenes looks!
Disney/ ABC invited me to LA to attend the red carpet premiere of Ralph Breaks the Internet and visit some ABC show sets including The Rookie. All opinions are my own.