This is a sponsored post written by me on behalf of Stride Rite for IZEA. All opinions are 100% mine.
The boy is starting nursery school in September. Can you believe this because I can't! We are just about done with all of our back to school shopping and was beyond thrilled to see that Stride Rite just launched Surprize – an exclusive line of cute and comfy shoes available only at Target.
I live and breathe Target on a regular basis. This was GREAT news for me!
 Surprize offers everything a parent can dream of – style and substance and at an affordable price. The best of Stride Rite – comfort, fit, and durability – now conveniently located at one of my favorite stores. 
What can you expect with Surprize by Stride Rite?
Comfort – These shoes have a generous fit and all memory foam footbeds, ensuring great comfort for your kids
Fit – The shoes have very flexible outsoles allowing for an agile, natural step and growth
Durability – The rubber toes ensure durability
 
The Surprize brand available at Target has a great set up. When I walked into Target, I found a variety of hot styles on display front and center! Remember – this is the FIRST time this line is available at Target and can be purchased at all US locations and online at Target.com.
I have to tell you – we've been Stride Rite fans since 2005 (when I had my first child). I absolutely love the durability and the styles that this brand has to offer. Whether it's a special occasion, the first day of school, or simply an every day outfit that needs a new pair of shoes, I know I am SET with Stride Rite. 
I've mentioned this before in previous posts, but we shop so often at Stride Rite that the manager knows my family by name! How incredible, right? We don't have to give our customer number when we come in. She just KNOWS it! Truly HUGE fans here.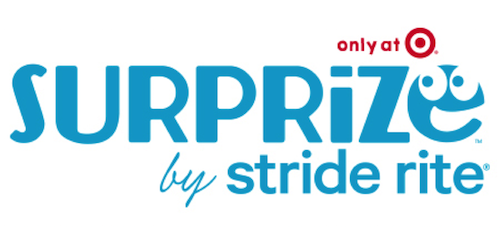 Take a look at the full line and let me know which Surprize shoe your little one would love the most? Dying over Surprize for girls and Surprize for boys!!!
In the meantime — here's a few more photos of Caleb in action. When you are done checking them out, be sure to Shop Surprize by Stride Rite!