This homemade banana pudding recipe is something I tend to make every holiday. The combination of crunchy Nilla wavers and sweet vanilla pudding mixed with fresh bananas and whipped cream is one of my favorite things to eat!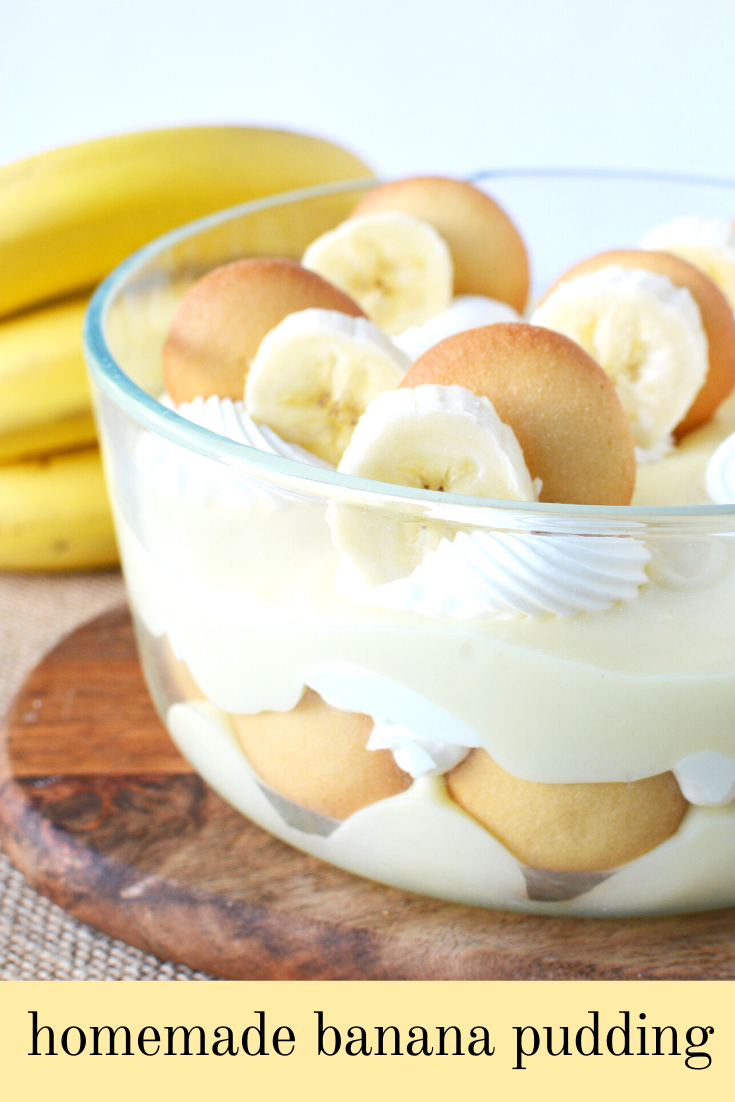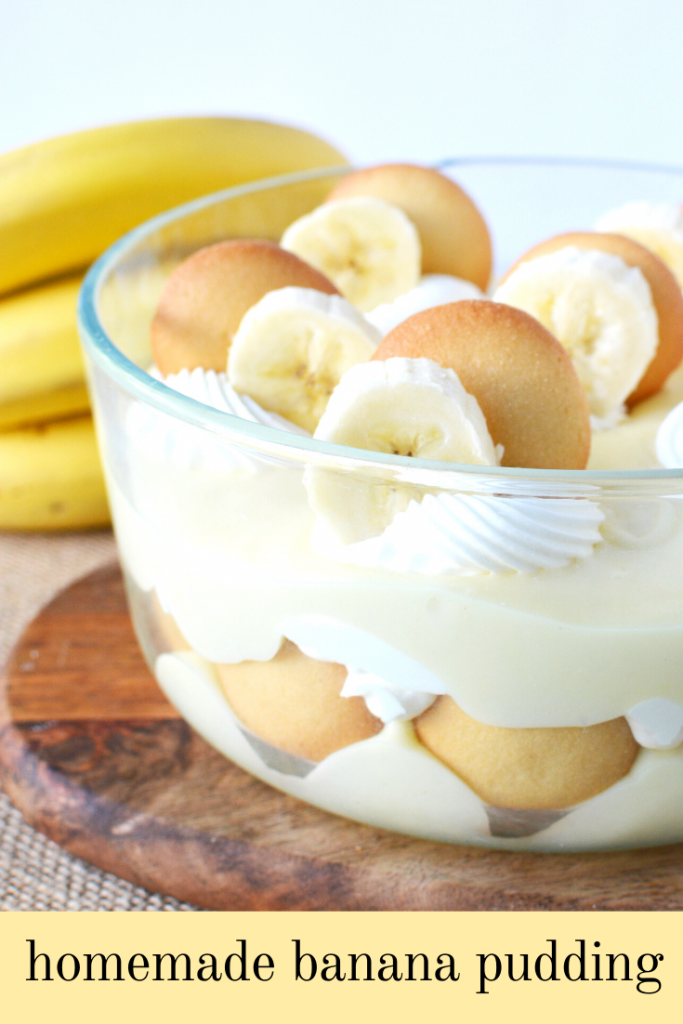 And can we just be honest? Leftovers the very next day are THAT much better! When the vanilla wafers soften and sort of melt right into the pudding, I almost love this old fashioned dessert that much more!
Homemade Banana Pudding With Nilla Wafers And Fresh Whipped Cream
Here's one of my little dessert secrets. Whenever I find myself at Penn Station in NYC, I always stop at Magnolia Bakery to pick up a few cupcakes and a small banana pudding. A lot of people rave about their cupcakes… and yes, they are delicious. BUT I LOVE THEIR PUDDING! It is just SO GOOD! I think it is better than their cupcakes, but we won't get into that right now.
I am such a huge old fashioned banana pudding recipe kind of girl, that I HAD to have this recipe on my blog for you guys! It is probably a TOP TEN TREAT for me.
How Do You Make Banana Pudding From Scratch?
Banana pudding from scratch is actually easier than you think as far as ingredients are concerned. Egg yolks, sugar, flour, vanilla, and a little half and half will set you on the right path.
You will need a bit of time though to see this delicious recipe through. So, make sure you have a few hours on hand to set aside in order to complete this dish because the pudding needs to set in the refrigerator before we can assemble our final layers.
How Do You Keep Bananas From Turning Brown In Banana Pudding?
There are a few ways to try to make sure your bananas don't turn brown. Don't cut them up until you are ready to assemble your dish. The less time they spend exposed to air – the better.
Also, make sure the bananas are completely covered with pudding. I mean…cover them completely!
If you'd like, you could also toss them in a bit of lemon while prepping, but this might change the TASTE of your pudding – so I wouldn't consider this as a viable option unless you were in a panic.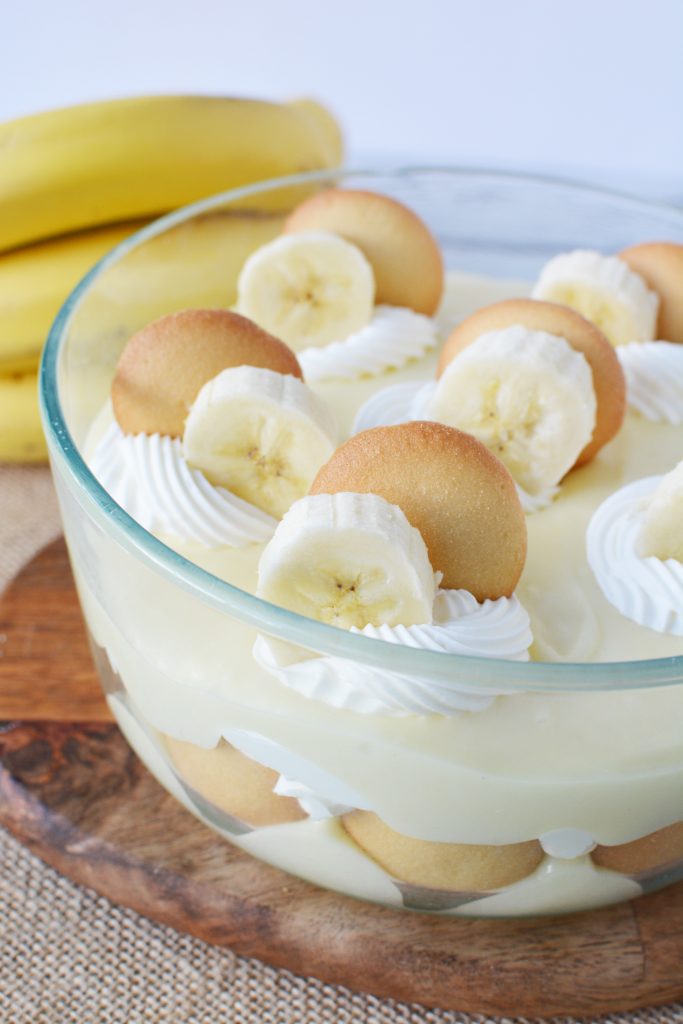 Homemade Banana Pudding Ingredients
2/3 cup white sugar
1/2 teaspoon salt
1/4 cup flour
3 egg yolks
2 cups half and half
1 teaspoon vanilla
2-3 bananas, sliced
1 cup heavy whipping cream
1/2 cup powdered sugar
nilla wafer cookies
How To Make Banana Pudding With Vanilla Wafers
Add sugar, salt and flour to a saucepan and mix well. Stir in half and half and eggs. Whisking constantly, heat over medium-low heat for about 10-12 minutes until mixture is thick.
As a heads up, the consistency will be runny pudding. Remove from heat and let stand for five minutes.
Cover with plastic wrap and continue to cool in the refrigerator for about two hours. After the first hour, remove the plastic wrap and mix well. Return plastic wrap and continue to cool.
In a mixing bowl combine whipping cream and powdered sugar and whisk on high until stiff peaks are formed. Pipe 1/3 of the mixture into a piping bag fitted with a tip. Use the remaining whipped cream for layering the pudding in the serving dish.
To assemble the pudding, layer a small amount of pudding into the bottom of a serving bowl. Add wafer cookies around the outside.
Top with bananas and whipped cream. Add another layer of pudding and top with piped dollops of pudding, banana slices, and wafer cookies.
Serve immediately or refrigerate, covered, until ready to serve. Serves 6-8
Nilla Wafer Banana Pudding Tip
It's so important to constantly whisk the banana pudding while you are making it. Otherwise, it will burn/stick to the bottom of the pan. Then you'll be scraping bits off the pan and into your pudding.
It will NOT affect the flavor and often not affect the texture but it looks better when you don't have brown bits in your homemade banana pudding recipe! So, consider this your official HEADS UP! Stir and stir often.
Do I Have To Make Homemade Whipped Cream?
The homemade whipped cream topping used in this banana pudding recipe is made from scratch, but you can also use Cool Whip. Don't feel like you have to do this extra step if you don't have it in you. Truly! OH! and in case you were wondering, the tip used in these homemade banana pudding recipe photos is a 4B.
Do I Have To Use Half And Half? Can I Just Use Milk?
You should really consider using half and half in this homemade banana pudding recipe. Make the extra trip to the grocery store to pick it up if you are out because otherwise, it will take FOREVER for this dish to turn to pudding. Actually, I am not even sure if it will with milk?? You need the half and half.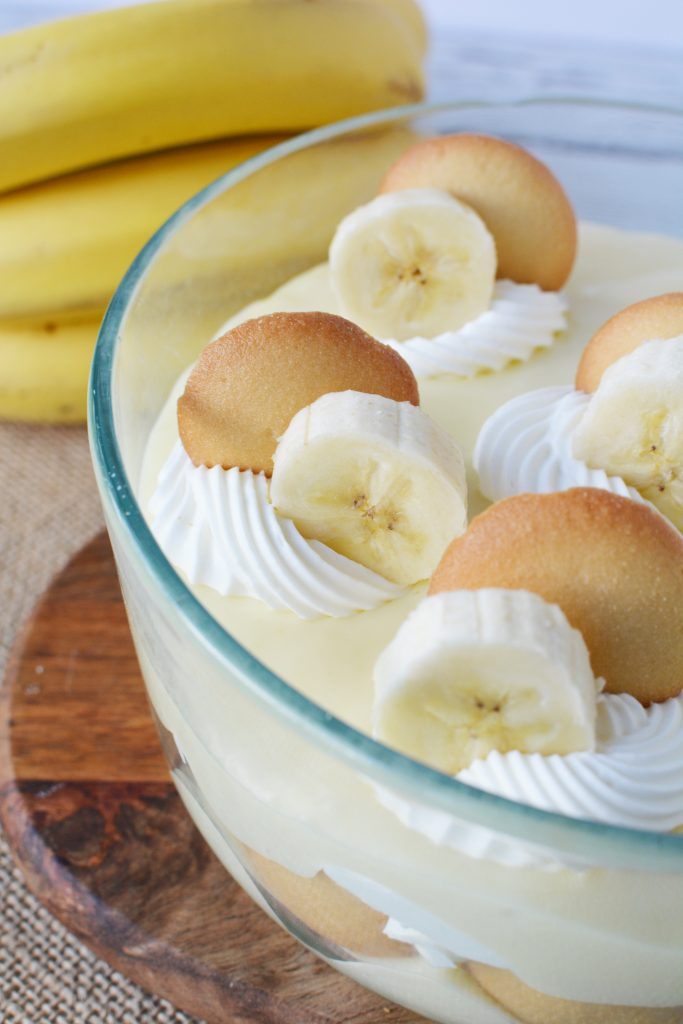 How Long Does Homemade Banana Pudding Last?
In my house, banana pudding with Nillas does NOT last very long, but if you keep your leftovers in the refrigerator with an airtight seal, you could keep this dessert for up to 4 days.
Does Homemade Banana Pudding Need To Be Refrigerated?
In order for this homemade banana pudding recipe to work, you do need to refrigerate your pudding and allow it to set for several hours. So, yes. This recipe is one that takes some time. But I promise you – it will be worth it!
Are you ready to check out this great recipe? I really hope you do give it a shot! It truly is one of my favorite desserts. Next time you are in the store, grab some ripe bananas, egg whites, and some half and half and get your list started!
Related: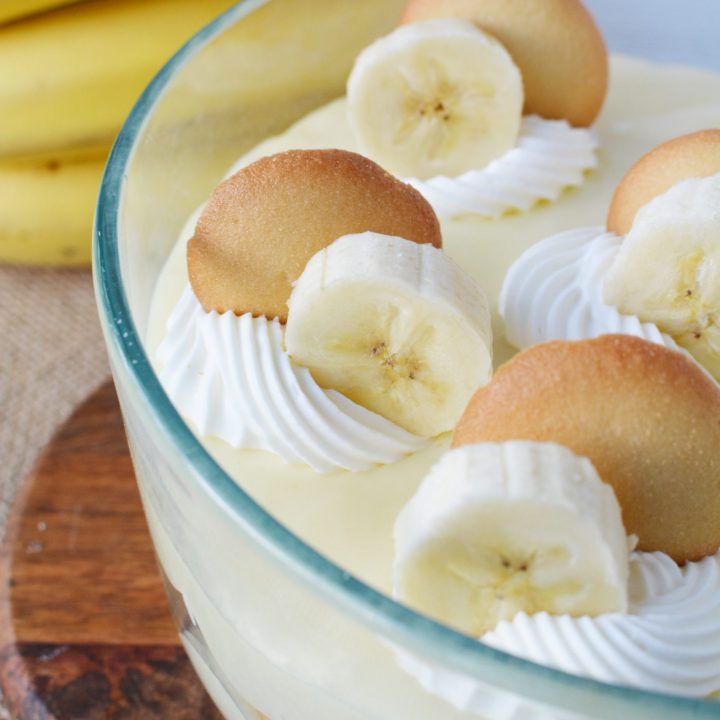 Banana Pudding With Nilla Wafers
Ingredients
2/3 cup white sugar
1/2 teaspoon salt
1/4 cup flour
3 egg yolks
2 cups half and half
1 teaspoon vanilla
2-3 bananas, sliced
1 cup heavy whipping cream
1/2 cup powdered sugar
nilla wafer cookies
Instructions
Add sugar, salt, and flour to a saucepan and mix well. Stir in half and half and eggs. Whisking constantly, heat over medium-low heat for about 10-12 minutes until the mixture is thick. It will be like runny pudding. Remove from heat and let stand for five minutes.
Cover with plastic wrap and continue to cool in the refrigerator for about two hours. After the first hour, remove the plastic wrap and mix it well. Return plastic wrap and continue to cool.
In a mixing bowl combine whipping cream and powdered sugar and whisk on high until stiff peaks are formed. Pipe 1/3 of the mixture into a piping bag fitted with a tip. Use the remaining whipped cream for layering the pudding in the serving dish.
To assemble the pudding, layer a small amount of pudding into the bottom of a serving bowl.
Add wafer cookies around the outside. Top with bananas and whipped cream. Add another layer of pudding and top with piped dollops of pudding, banana slices, and wafer cookies.
Serve immediately or refrigerate, covered, until ready to serve.

Serves 6-8
Nutrition Information:
Yield:

8
Serving Size:

1
Amount Per Serving:
Calories:

360
Total Fat:

20g
Saturated Fat:

12g
Trans Fat:

1g
Unsaturated Fat:

7g
Cholesterol:

124mg
Sodium:

196mg
Carbohydrates:

43g
Fiber:

1g
Sugar:

34g
Protein:

5g