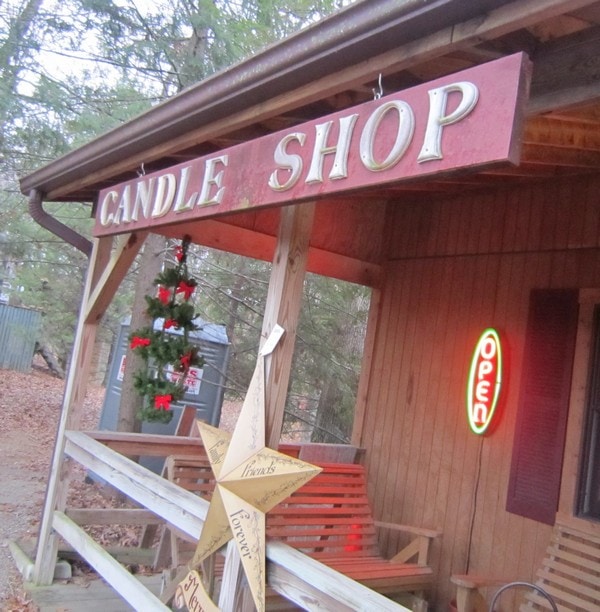 I have a real problem with candles. I'm talking an insane addiction. Whenever I go away I end up purchasing some sort of candle and it gets to the point that I can't HOUSE THEM. Last winter I decided to put extra candle wax in my fire place to help keep the flames alive. Not so sure that was the safest move  – but it's what I did and now I'm all out of candles!!!
Yesterday I had the opportunity to visit the Hocking Hills Candle Works Shop and have a private lesson on candle making! I was grinning from ear to ear. The rest of the group either went glass bead making or hiking. PS – this is what my friend Melissa bought from the glass bead store:
Is she INSANE?! LOL
Anyway – back to the candles.  First you smell what scents they have to offer. After a while they all start to mesh into one and I was told by sniffing coffee beans that problem goes away. It did! So, that's a great tip if you ever need to clear up your nose. Also works on sinuses (I'm told).
I made two candles.  One of which was a mixture of Eucalyptus and Clothesline. You make your mixture in the steel container on the left and add a little of the oil at a time until you are happy with the combination. Then you pour it into the jar and add the wax.
Depending on how many candles you want to make at a time determines how much wax you need to purchase. This candle shop gets a lot more than you or I would need for a hobby. I BELIEVE he said he orders 50 POUNDS of wax at a time… don't quote me though.
You melt the wax and pour it into your jar. Then for about 30 seconds you mix everything together to make sure your scent makes it way through all the wax. Then you let the candle cool for at least 2 hours. It takes about an hour to set and another hour to cool.
These candles are soy and all natural. So no color was added because it's unnecessary. The burn is healthy and safe and produces no black soot!
Here's one of my two candles. I keep opening the lid and smelling it. I'm itching to go home and light this puppy up.
Have you ever had an interest in candle making? I absolutely do and am so happy I learned how! If you live in the Hocking Hills area the Candle Works shop offers lessons!! Etsy.com – here we come. 🙂