These free love coupons are the perfect addition to the Valentine's Day gift you are putting together right now for your loved one. I'm right there with you. Trying to do my best to personalize a gift for my husband to show him just how much he means to me.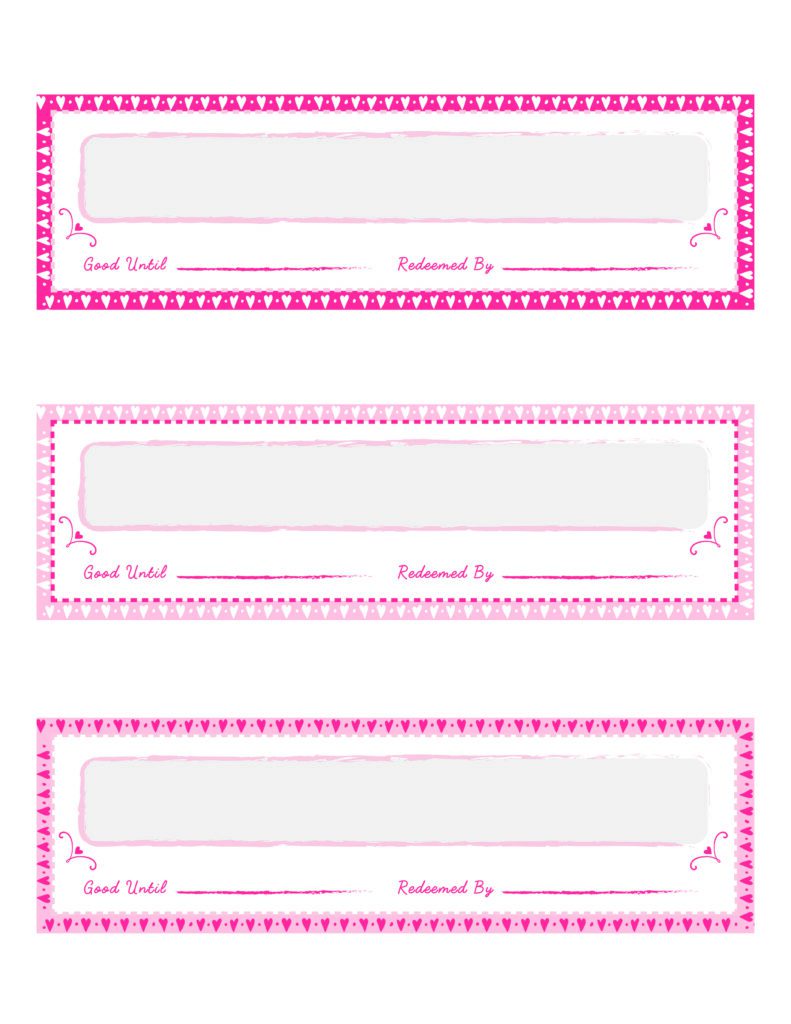 Valentine's Day is such a special holiday… but it's also super commercialized, right? We REFUSE to go out to eat on the big day. Try dating while living in NYC on Valentine's Day. No bueno. Restaurants would hike their prices up by the hundreds. THE HUNDREDS.
We got wise to their games pretty early on and really turned towards other alternatives that were a bit more sentimental. These Valentine's Day coupons are something that we've used time and time again.
Free Love Coupons – Coupon Book Ideas For Valentine's Day
Instead of spending $400 on a brunch that I could probably make at home, my husband and I started to make promises to one another on Valentine's Day and we used love coupons to do that.
We would create these little mock love coupon books and give each other notes about all the things we could offer. Usually, they were things we didn't like about one another. So, I would say something like, "One coupon good for a dinner that's not made with chicken" because I literally make chicken every single night of our lives and he hates that.
He would say something like, "One coupon good for one day of not asking where anything is" because I'm the only person in the world who knows where anything is EVER. You get the drift, right? It's funny and super personal. But our Valentine's Day coupons were REALLY meaningful.
The love coupon book usually brings on a lot of laughs because these private jokes only make sense to US. After so many years of marriage, I am sure you have a thing or two that you know irks your husband or wife. Why not consider coming up with a few coupon book ideas of your own this Valentine's Day to set them free? LOL!
Download Your Love Coupon Book Here
Click here to download your Free Valentine's Day printable love coupon book. There are three love coupons per page. So, consider how many pages you need to bring to create your very own love coupon book for that special someone in your life.
I think this Valentine's Day is going to be extra special for my husband. I am going to have so much fun with these!!
Valentine's Day Coupon Book Ideas For Couples:
If you don't know what to put on your love coupon books, I wanted to offer up a few suggestions. Sometimes, when I offer up blank templates, I get worried that my readers might not know where to start.
These Valentine's Day coupons have limitless possibilities! Here are a few great suggestions for your love coupons to jumpstart the holiday.
Good for one massage
Good for one movie-night in
Good for one daytime date
Good for one movie rental – your choice
Good for one "you're right, dear"
Good for one home-cooked dinner
Good for one striptease
Good for one "dealer's choice"
Good for one foot rub
Good for one snuggle time
Good for one breakfast in bed
Good for one night of no electronics
Good for one cup of your favorite coffee
Good for one night without any complaints
Good for one "get out of jail free" card
Valentine's Day Coupon Book Ideas For Kids:
By the way, these printables do not have to be romantic! I made them for everyone! I am going to print them out for the kids as well. One of my fondest memory as a child was when my grandfather would buy me a GIANT heart filled with chocolate on Valentine's Day. I remember it being as big as me.
I would wake up and run downstairs to find it. He knew I didn't like chocolate. I knew I didn't like chocolate. But none of that mattered – it was the thought and the tradition that counted.
I wanted that heart. I was obsessed with it. Valentine's Day was so special to me because of his gift. It made the day that day everything and more!
So, if you have kids, please feel free to print a few of these love coupons out and hand them out for some fun. They will get a kick out of them all – I promise. Want to know what you should write on the love coupons? Here are some suggestions:
Good for a day of no chores
Good for one movie night
Good for a pasta night
Good for dessert after dinner
Good for a game night
Good for one special day with mom
Good for one special day with dad
Good for one activity of your choice
Good for one pillow fort
Good for breakfast in bed
Good for breakfast of your choice
What do you typically give to your spouse or significant other on Valentine's Day? Would love to hear. Are you planning on adding this free Valentine's Day printable to your gift? I hope you enjoy it!
If you are looking for more Valentine's Day ideas, check out these fun suggestions: