This post brought to you by ALPO® Brand Dog Food. All opinions are 100% mine.
ALPO® wet dog food brings excitement during mealtime for dogs and their owners by delivering great taste, nutrition and variety. It's amazing how Jack and Jill go crazy when we give them the ALPO® wet dog food in place of or mixed with their standard, everyday dry dog food. They LOVE it. They get super excited, like it's bagel day (oh yeah, they love bagels)! They can't get enough.
ALPO® wet dog food is 100% complete and balanced and has quality ingredients, like healthy protein sources, wholesome grains and accents of vegetables, contribute to form a complete and balanced diet for each life stage. ALPO® dog food helps support a happy, healthy life, a shiny coat, strong bones and teeth and a mealtime tail that just can't stop wagging…believe me, it's like they are going to take off in flight.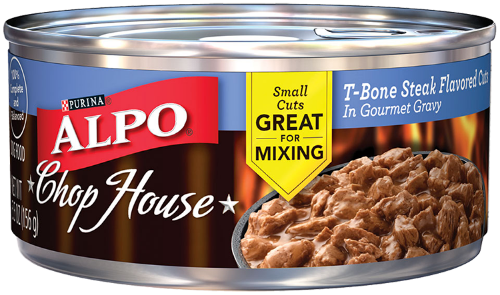 Now, your little ones can enjoy ALPO® Chop House! Chop House comes in a great, compact can of small cuts or finely ground that is great for mixing with dry food and perfect for small dogs…like little Chihuahuas. We tend to do mix with dry food…not go all out with the wet, but mix it nicely with the dry. It's a great balance for Jack and Jill and it's a great way to liven up their day-to-day eats. Also, ALPO® Chop House 5.5 oz offers unique flavors for your dog, such as T-Bone Steak Flavored Cuts, Tender Cuts With Lamb, Filet Mignon Flavor, and Rotisserie Chicken Flavored Cuts!!! See more of ALPO's variety dog food here!
Jack and Jill were digging it…here's Jilly Girl getting down on some Chop House Filet Mignon Flavor! Jack really loved the T-Bone!
Here are some helpful links for you to check out:
A healthy dog is a happy dog. Wouldn't you agree? Enjoy!!