Last week, I had the opportunity to attend a Downy event at a small laundromat on the Upper West Side in NYC. Downy was offering free laundering services to local residents to prove that their line of products can truly make a difference at the end of a wash cycle.
Apparently, I was using the Downy Unstoppables… TOTALLY WRONG. But we will get to that in a moment. Let's kick off with Miss Lauren Conrad. Lauren recently teamed up with Downy to help spread the fresh-scented word about how important it is to use softener when doing your wash and I had a chance sit down with her and chat all things beauty.
(Short and Sweet) Here Are My 5 Beauty Takeaways From Lauren Conrad:
Soy Leave In Conditioner:  Lauren uses a soy leave-in hair treatment to keep her locks looking so fab. She didn't commit to a particular brand, so I'm not committing to Healthy Sexy Hair – just picked them for image purposes. She said she's been using a soy treatment since the beginning of time. And we all know how fab Lauren's hair always looks.
Sarah Potempa's BeachWaver Gave Lauren Those Curls The Day Of The Event: I know this because I am friends with Sarah and she told me she did Lauren's hair right before the event. So, you want the tool that did all that magic? Here it is.
When Lauren Travels She Sticks To Nude / Clear Nails: When Lauren makes quick trips for work, she tries not to mess around with darker shades unless she has time for a manicure right before the event. If she is on her own, she opts for nude or clear nails. It's less maintenance and they go with everything.
When Lauren Is Local, She Likes To Go Big With Her Nail Polish: GOSH the nail polish name has escaped me but it had to do with hot pants, or short shorts… I CAN'T REMEMBER! Either way, Lauren said right before she flew to NY she was rocking BRIGHT ORANGE nail polish and that it is her norm for the spring and summer. Expect to see this superstar in lots of bright nail polish over the next few months.
She Likes Nars: It was pretty hard to get Lauren to commit to a particular beauty brand, but one company that she admitted to owning a lot of makeup from was Nars.
That's it! I need to do a run and find a JUG of soy hair leave-in conditioner… because my ends are crying for attention.
Now, onto Downy and what I've learned about their product line. PS my MOUTH DROPPED when I found out what I'm about to tell you. All these years… wrong.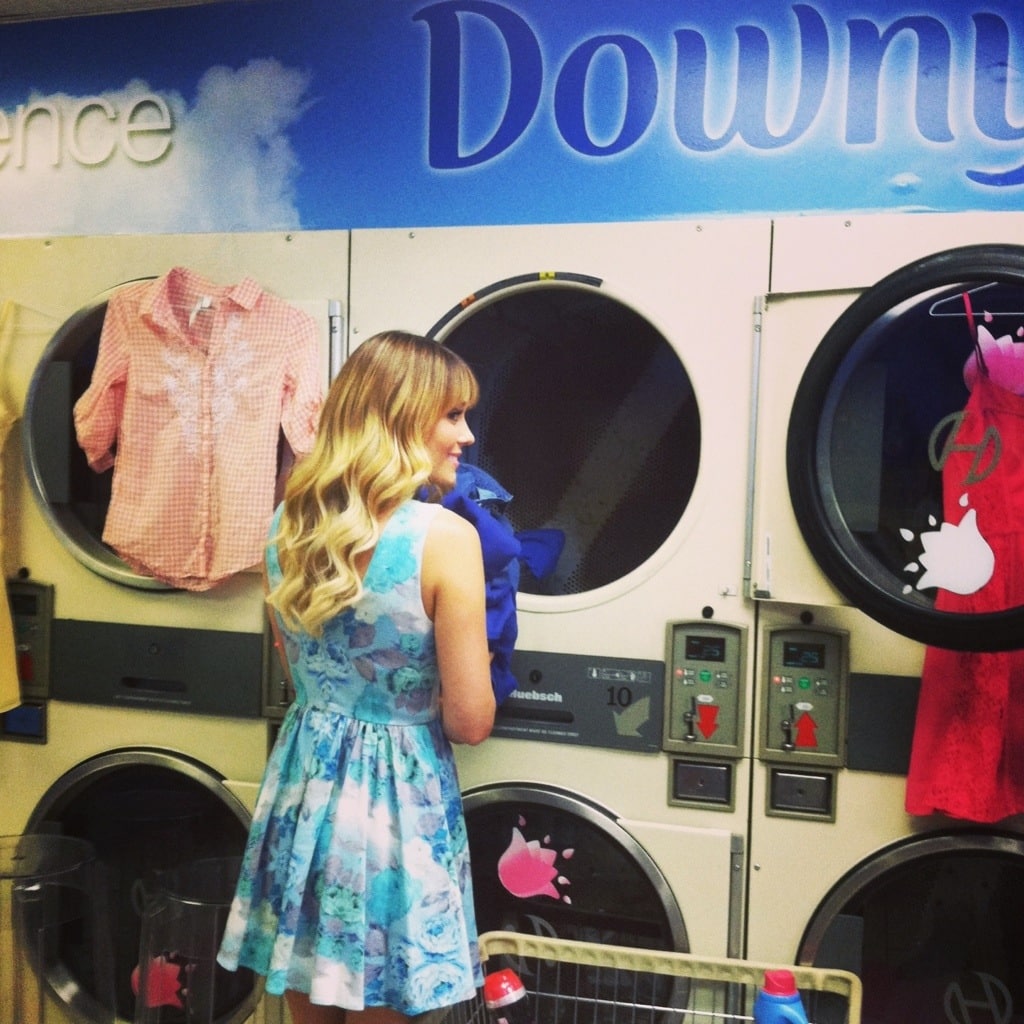 Like I said, Lauren Conrad was on hand to teach everyone about why you should use Downy in your wash. Did you know that softener is not really only about scent? It actually can make your clothing last longer. Check out this image that really surprised me:
Ultra Downy basically PROTECTS your clothing as it softens and freshens. WHO KNEW!? I thought it was just an added bonus – something you do when you remember. Apparently not! Thank goodness my husband and I religiously use Downy with every wash…  Well, sort of.
Get this. I've been using the Unstoppables all wrong. ALL WRONG!  Ever since they came out, I stopped buying the liquid softener and have 100% replaced it with Unstoppables. WELL, YOU AREN'T SUPPOSED TO DO THIS!! The Unstoppables are an ADD-ON – a scent BOOSTER. Oh my goodness. For two years, I've been messing up big time. Practically fell off my chair when I learned this at the event. WOOPS! Lesson learned! When I got home, I whipped out my Downy ball and wrote a note to myself to pick up some softener ASAP.
IF you want to have the best of both worlds, you should opt for Downy Infusions. This is softener PLUS added scent boosters. Another thing I DID NOT KNOW. I can't tell you how happy I was to attend this event. It basically changed my laundry routine forever … or should I say CORRECTED my laundry routine.
All in all I had a great day! Have you been using the Downy Unstoppables right? Or were you replacing them for softener like me?!
For more information, visit Downy.com