Last week, I had the chance to host a gathering for some of NYC's social media fashionistas to welcome the latest seasonal addition to cabi's Fall's line up. As usual, I was beyond excited to see what new clothes this brand was adding to their already existing collection. Honestly, a good 25% of my wardrobe consists of cabi and that isn't an understatement. Their pieces are all high-quality, built to last, and completely on trend… if not ahead of the curve. 
My partner, Audrey McClelland and I welcomed a dozen friends to sit down and watch a live stream of Cabi Scoop – a fashion show and all-day affair where stylists from all over the country get to see first-hand what new pieces will hit the markets and get tips on how to combine them all together. As a consumer, I always love to tune into this show as well. It gives me such stylish inspiration! I walked away knowing that I was going to wear a scarf as a belt this summer if it killed me!!! LOVING THAT LOOK!

If you haven't heard about cabi, I HAVE to tell you all about them. There is so much to say… but the point is… this is a brand that needs to be put on your radar.
7 Things You Didn't Know About The New 2018 Fall Cabi Clothing Collection
It's A Party At Home: 
Ok, seriously… cabi parties are everything. It's a reason to get your girlfriends together while hosting a function in your house. Lots of fun. Lots of laughs. Lots of ways to make memories. Yes, it's all about shopping the line, but there's more to it. cabi brings people together during a day and age where social media is pulling people apart.
Cabi Allows You To Try On Before You Buy:
This point is such an incredible part of the entire experience. Your cabi consultant will bring a TON of clothing from the current line (in a variety of sizes) and allow you to mix and match and try on things you never would have explored otherwise. Considering a sweater but not sure if it would work with your body type? Great! No problem! Get up, take it off the rack, and throw it on!! That's what makes cabi parties so special. There's no guessing.
Get Tips From Your Cabi Stylist:
We all buy the same 8 things – let's be honest. I'm not even going to lie. I buy the same floral prints, the same skinny jeans, the same type of cuts. Well, whenever I am around a cabi stylist, everything changes! She takes one look at my body and starts whipping me around and putting my imagination to the test. And you know what? I LOVE IT!! I get to explore new cuts and designs and then my style profile expands for the better. Fashion chats make everyone happier!! 🙂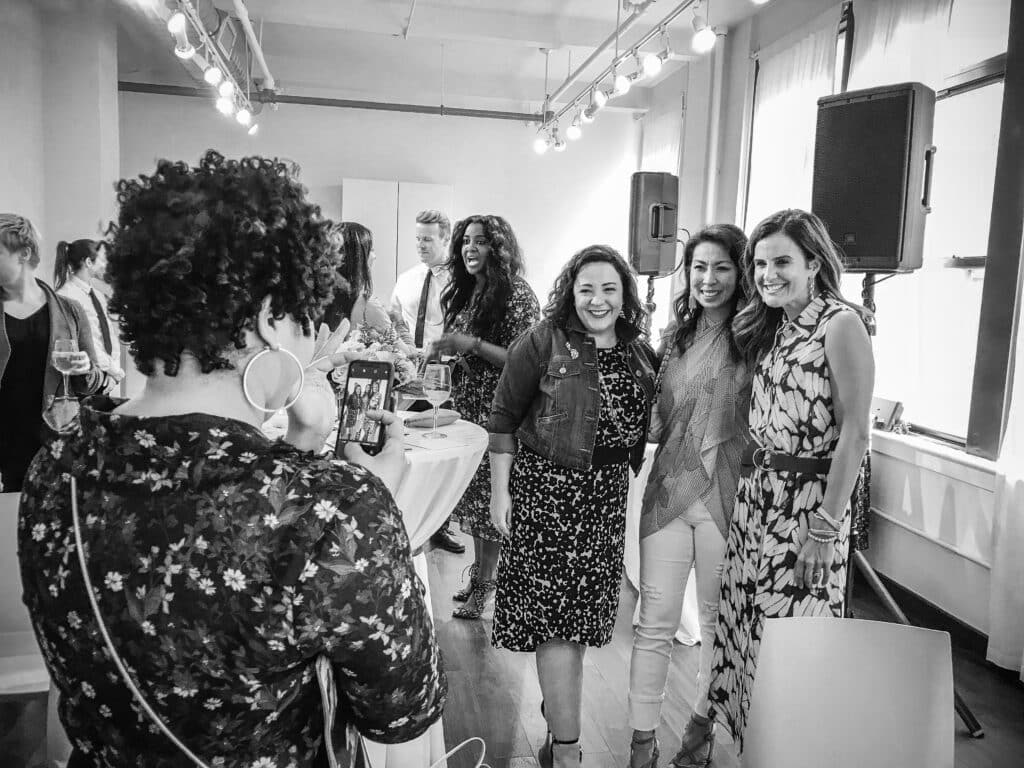 Cabi Parties Produce Models:
Yeah – I said it. When my good friend tries on a dress, I get to see how that dress looks while in action. This gives me ideas and makes me think about prints, patterns, and cuts that maybe I wouldn't have before. When your friends get into the fun, everyone benefits. Before you know it, the entire party has on cabi and you are putting on your very own cabi Scoop!!! I LOVE THIS PART! I AM SCREAMING AT YOU!
There Are Accessories Too:
You guys, it's not just clothes! There's jewelry and shoes and belts and scarves and …. ALL THE THINGS. Do you hear me? You can get set up from head to toe with cabi.
Hostesses Get Perks:
Get designer clothes at 50% off (and more!) and say goodbye to the stress and frustration of shopping at traditional stores. That's not from me – that directly from their website. I'm not kidding when I say that cabi offers their hostesses perks! There is a huge chart for you to check out to see just how many discounts you will receive – be sure to read it.
The Cabi Foundation Gives Back In A Big Way
Their mission is to encourage and empower women in need. From distributing clothing in communities affected by natural disasters to empowering women entrepreneurs in the developing world to work their way out of poverty, cabi is passionate about serving and investing in women across the globe. Your purchases will contribute to that change. I LOVE THIS SO MUCH!!! 
So, what are you waiting for? Check out the new Fall collection right now!
If you want to see a complete breakdown of my very first order, check out the above video. SO MUCH GOODNESS IN THERE!
*this is a sponsored post.
Pin This