Infinity War is opening this weekend and I have the perfect recipe for you to enjoy with the kids to celebrate. Iron Man chocolate chip ice cream sandwiches! Super fun, right? Now – full confession! I haven't seen the movie yet. So, I don't know if he is the one that is getting the ax. Personally, I think that Captain America's time is up even though I would be devastated if it was actually TRUE. After all, I met Chris Evans and he was SUPER NICE.  I rather Iron Man hit the road! After what he said about bloggers! Humph – I'm Italian AND from New York. I know how to hold a grudge.
Anyway – that has nothing to do with recipes and ice cream, does it? Right now, I want to bring it back to sweetness and goodness and all things sugar. Here's a great idea for you to create for the kids this weekend or this summer. The choice is really yours! It doesn't have to be for Infinity Wars. It could be right after a full day of getting messy in your backyard.
I know you were hoping for some store-bought magic here… but it's just not the case. There's flour involved and baking soda! I'm exhausted already. UGH! Ok, let's do this.
Iron Man Chocolate Chip Ice Cream Sandwiches – Ingredients:
1 cup Softened Butter (Sweet Cream, Salted)
1 cup Granulated Sugar

1/2 cup Brown Sugar

2 Eggs

2 tsp. Vanilla

1 tsp. Baking Soda

1/2 tsp. Salt

2 3/4 cups of All-Purpose Flour

1 Bag Nestle Toll House Mini Chocolate Chips

1/2 Bag M&M's Mini baking candies 

Red and Gold Food Coloring 

Vanilla Ice Cream 

Star cake sprinkles 

Black, red and gold cake sprinkles.
Iron Man Chocolate Chip Ice Cream Sandwiches – Directions:
Preheat oven: 375 degrees
In a large bowl or stand mixer, cream the butter, brown sugar and granulated sugar.
Add the eggs and vanilla to the sugar mixture and combine.
Add the Baking Soda and salt. Combine.
Add the flour one cup at a time. Mix until it is completely combined.
Separate the cookie dough into two equal parts and place each one in a separate bowl.
Use food coloring to create something that looks like Iron Man.  Think red and gold.
In a bowl, separate the M&M's so you only have the red and yellow pieces.
Add in the chocolate chips and M&M's to each portion.
Using a small ice cream scoop create your cookie dough balls.
Scoop a portion out of each color and hand combine them. Roll them in your hands to create your cookie ball.
Slightly press the cookie ball down onto the cookie sheet.
Bake for 8-10 minutes or until golden brown around the edges.
Putting It Together:
Take your vanilla ice cream out of the freezer and allow it to slightly melt.
Scoop out the ice cream and place it on a baking tray covered with a piece of parchment paper.  Try to get your scoop to be about 2 inches thick.
Place the tray in your freezer and let everything set for 1 hour.
Use a circle cookie cutter to cut out circles from your ice cream.
Next, place cake sprinkles on a plate.  Place the ice cream on one of the cookies bottom side up.  Then place the other cookie bottom side down on top of the ice cream.
Roll the edges of the ice cream into the sprinkles.
Place the completed cookie on a baking tray covered in parchment paper.
Place back in the freezer and freeze for 30 minutes.
Serve when ready to eat.
Iron Man Chocolate Chip Ice Cream Sandwiches – Pin This: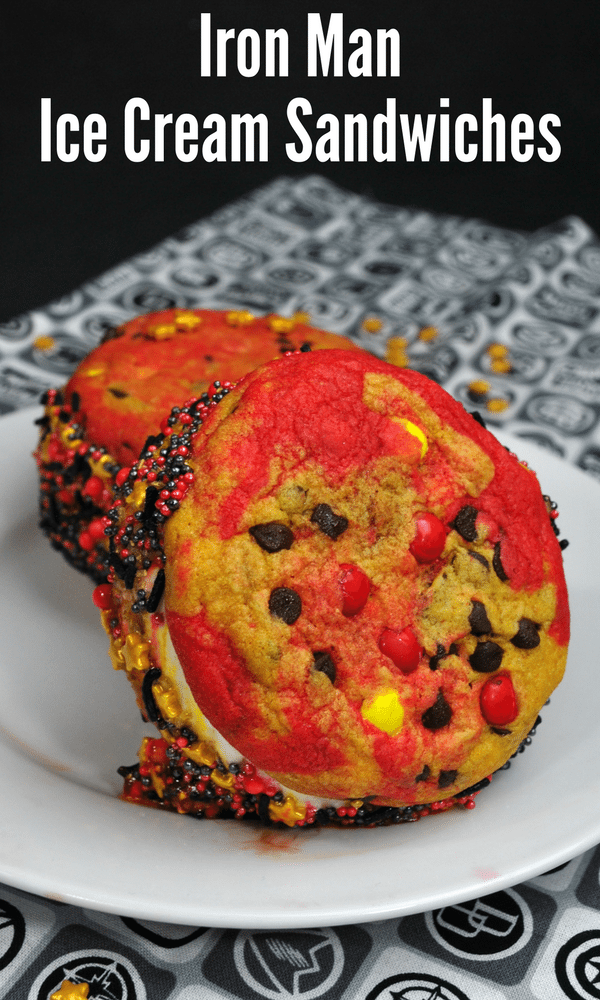 Want more recipes? Click here and visit my FOOD section. Enjoy!