Keto Cheese Shell Taco Cups with Jalapeno Cilantro Sauce
Another recipe for you guys this AM! I was feeling like a taco (or 8) and so I thought it would be fun to post about these Keto Cheese Shell Taco Cups with Jalapeno Cilantro Sauce. I mean – come on! Oh so good!! They are SUPER easy to make too – wait until you see.  Do you use Keto cheese in your recipes?
Prep Time: 15 minutes | Cook Time: 5 minutes | Total Time: 20 minutes
Keto Cheese Shell Taco Cups with Jalapeno Cilantro Sauce
Ingredients:
Sliced Colby Jack Cheese (or sub with desired cheese)

Preferred type of taco meat 

2 tomatoes, chopped

2 jalapenos

Juice from ½ a fresh lemon

¼ cup olive oil

¼ cup Greek yogurt

1 clove minced garlic

1 cup loosely packed cilantro, stems removed

½ tablespoon apple cider vinegar

Pinch of salt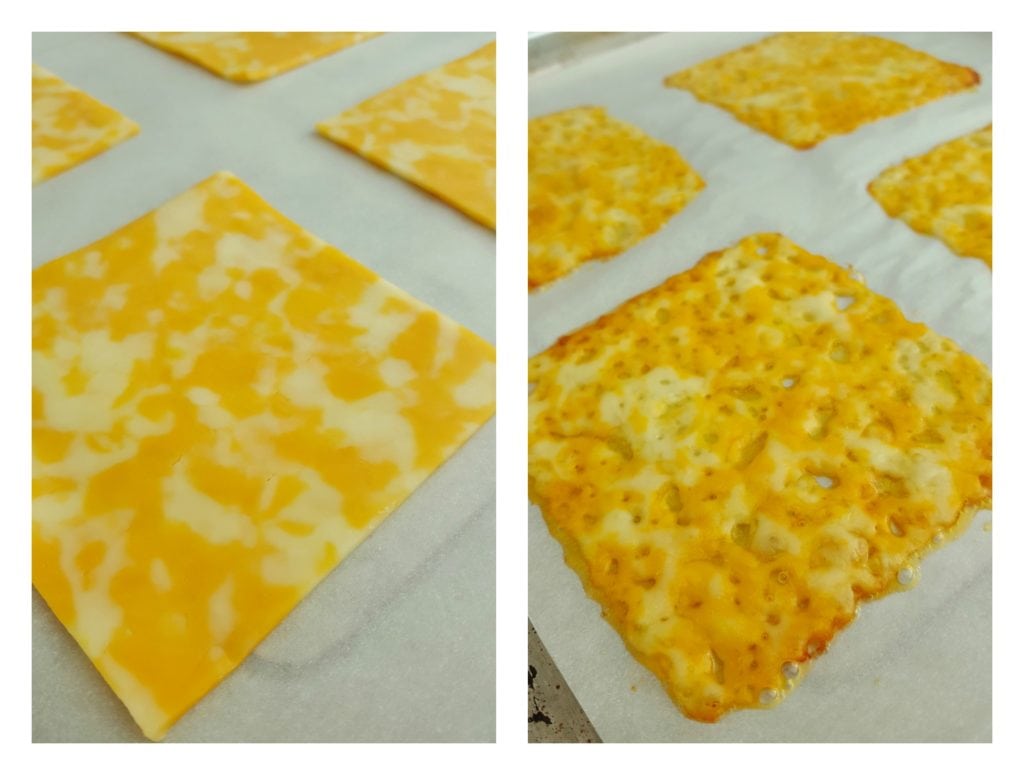 Directions:
Preheat oven to 375 degrees. Line a baking sheet with parchment paper. Place sliced cheese on the prepared baking sheet – leaving an inch or so between each.

Bake for 5 minutes and remove from oven. Cheese slices should be golden brown and start to bubble slightly.
Allow cheese slices to cool on the pan for two minutes. Using a spatula, gently lift each cheese slice and place one in each cup of a muffin tin. Carefully press the cheese into the cup to form the same shape.

 

Allow them to cool in the cups for 10 minutes. While cups are cooling, prepare the Jalapeno Cilantro Sauce.

To prepare the sauce: Slice jalapenos horizontally, trim and remove all (or some) of the seeds depending on your desired heat preference. Place the pieces of jalapeno into a food processor. Add the juice of half a lemon, olive oil, Greek yogurt, minced garlic, apple cider vinegar, cilantro and salt. Pulse several times until ingredients have been broken down into a smooth sauce. Place in the fridge until ready to use.

Remove cheese cups from muffin tin and place on a tray or platter. Place a few tablespoons of taco meat in each cup, followed by freshly chopped tomato, a drizzle of jalapeno cilantro sauce, extra Greek yogurt and cilantro and/or any other preferred toppings (salsa, guacamole, shredded cheese, etc.).
Tip:  Jalapeno Cilantro Sauce may be stored in the fridge for up to a few days.  Use it on fajitas, chicken burrito bowls – you can really get creative as there are many uses of this sauce!
Enjoy!!!