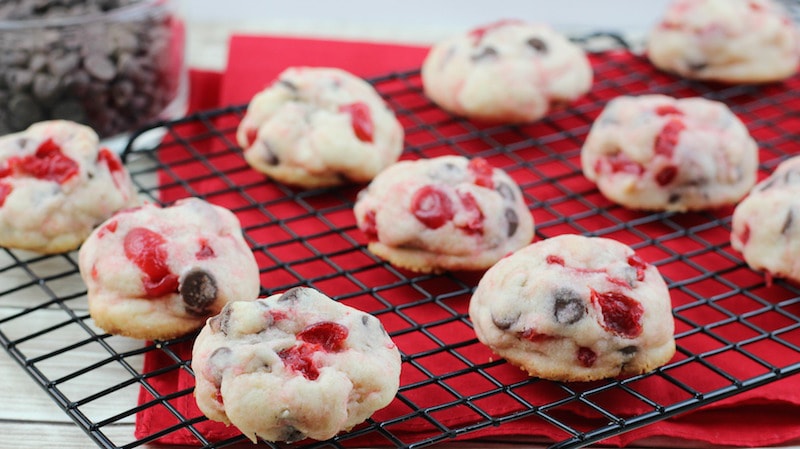 Not hard! I repeat – NOT HARD! If you want to try something a little different from your typical chocolate chip sugar, why not try these Cherry Garcia cookies instead! You can make these from scratch using ingredients that I am sure you already have in your pantry. All you will need to pick up are the cherries and the semi-sweet morsels.
Ready to find out how to make Cherry Garcia Cookies? Here's the official recipe. Enjoy!
INGREDIENTS
1 cup granulated sugar
3 sticks (1 1/2 cups) butter, softened at room temperature
1 egg
1 teaspoon almond extract
3 cups flour
1/4 teaspoon salt
1 teaspoon baking soda
1 (12 oz.) bag Nestle semi-sweet chocolate chips
1 (10 oz.) jar Maraschino cherries (drained and chopped into pieces)
DIRECTIONS
1.   Preheat oven to 350°.  Line a cookie sheet with parchment paper and set aside.
2.   In a large mixing bowl, add the sugar, butter, egg, and almond extract. With an electric mixer, cream until light and fluffy.
3.   Add the flour and salt and mix until just combined.
4.   Add the semi-sweet chocolate chips and stir until well distributed.
5.   Gently fold in the chopped cherries.
6.   Chill cookie dough for 30 minutes.
7.   Roll dough into 2 inch balls (the cookies will not expand much in the oven) and place on parchment-lined cookie sheet.
8.   Bake 12-14 minutes or until light brown.
9.   Cool on cookie sheet for 5 minutes before transferring to a wire rack to cool completely.
ENJOY!!
Check Out My Other Recipes:
Related: Cookie Cheesecake Bar Recipe (THIS IS SO GOOD)
Related: Gluten Free Cupcake Recipe – Cookies and Cream
Related: Snowball Cookies Recipe 
Related: Mint Ice Cream Cookie Cups Recipe
Check Out My Other Dessert Recipes Before You Go