A Family Trip To Hershey Park Filled With Memories, Chocolate, And Laughs #hersheypark
Here's a video recap of our Hershey Park trip! See below for more photos, but I would love for you to check out our adventures above.
We had so much fun at Hershey PARK. It was one of those trips that you just didn't want to end. Just a few hours away from NYC, we were transported into a chocolate wonderland. And I mean it. Almost everything we did involved a chocolate bar. It was hilarious. But let's start at the beginning — a drive down to Hershey always has a pit stop at Cracker Barrel. I've been taking photos on these rocking chairs since Natalie was 2 years old. It's a Sweeney tradition. It was such a pleasure to FINALLY get a few shots of Caleb playing with one.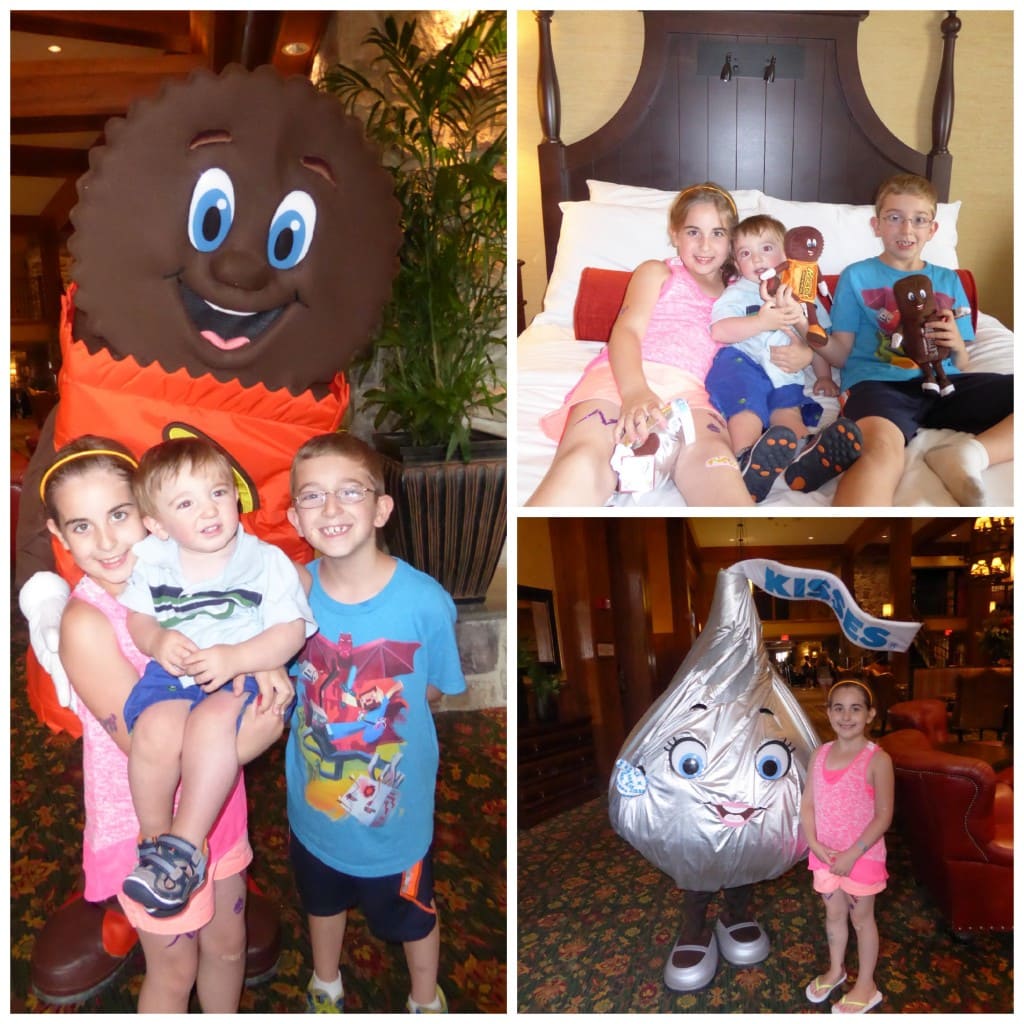 We checked into the Hershey Lodge and were greeted by a few friendly characters. I'm talking right in the LOBBY! How great is that? Knowing that you can run into a Hershey Kiss or a Reese's Peanut Butter Cup while walking around your hotel = priceless. There's no major line to wait on either! You take pictures at your leisure. Loved it and it was such a surprise.
Another amazing perk?We forgot our pack n' play (woops) and called down for one from the front desk. They brought one up right away along with sheets, shampoo, conditioner and diaper cream. Talk about family service!
We threw our bags down and hopped on a free bus to the parks. Both the Hershey Lodge and the Hershey Hotel offer this service for their guests. Within a few minutes we were at Hershey Park and the kids were THRILLED. There's a place right in the front where children can measure their sweetness. 🙂 Their size determines what kind of rides they can go on. It's an easy way to remember. Both Natalie and Liam were Hershey's Chocolate. Caleb was a Miniature. LOL!
We spent the entire day hopping from one ride to the next. The lines are completely manageable which we were SO THANKFUL FOR!!!
Oh and PS –if you are looking for a little escape, you can always head on over to Zoo America — a zoo that is right inside Hershey Park! In front of the entrance we found a wonderful introduction to a tortoise. Last time we came, there was someone outside with an owl. Always something new to learn and see at Hershey!
The next day we headed to Hershey's Chocolate World. There was SO MUCH TO DO THERE! We watched an interactive 4-D movie where scents would flood the room and vibrations would rock our seats every single time the movie warranted it. We also walked through a "Make Your Own Candy Bar" factory which was SO FUN! The kids got to create a custom-made design and then eat it. YES PLEASE. And then we even did a chocolate taste test and learned the difference between milk, dark, and white chocolate. Samples anyone???
And then… it was back for more rides and games. Of course we ran into more chocolate characters. No one complained about that.
End result? An amazing time had by ALLLLLLL. If you love rides, games, adventure and chocolate… Hershey Park is the place for you and your family. A trip filled with memories is a click away. LITERALLY!
* I'm a Hershey Park ambassador. The company invited my family to visit the park this summer. Hotel and tickets were comped. All opinions are my own.