Here's a few pictures of my BEFORE. Now, you have to understand – I could FIT the clothes into my closet, but they were always wrinkled because they were STUFFED in. It was an issue for me because I don't really like to iron. I'm a "wake up and GO" kinda girl. Having to iron is a step I was not willing to add to my morning routine.
Here's more of the disaster that was my life…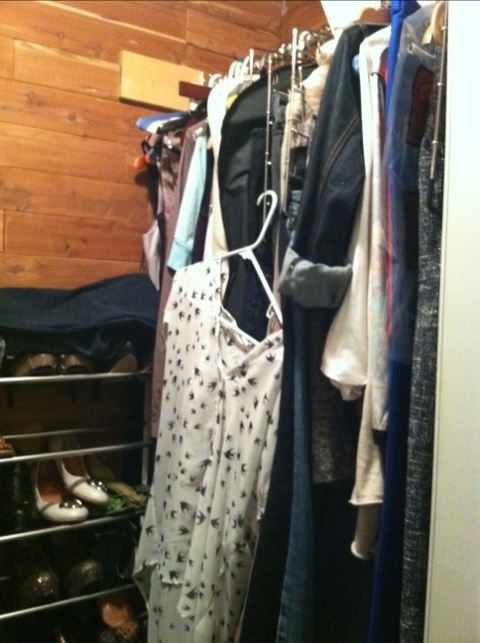 And I'm not showing you the PILE of clothing that usually LIVES on my dresser. We are going to just pretend that never happened. Bob's Furniture came and set up my wardrobe closet last week. I decided to take all sleeveless shirts, sweaters, and jeans and place them in the piece. This cleared up a lot of room in my original closet.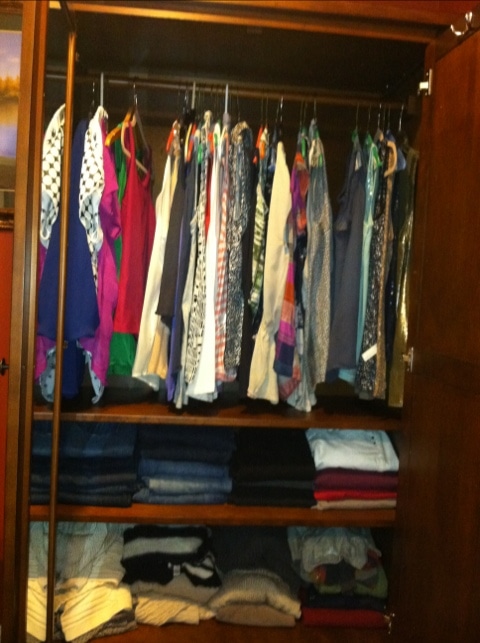 Now everything isn't JAMMED in. It's spread out and happy! I can actually SEE what I own and am thrilled with the purchase. Yes, I own 17 pairs of jeans. No, that is not all of them. Some are in the wash…
As you can see, that bottom row is looking a little empty now that my sweaters aren't cramming things up… uh oh! 🙂
On the right side of my closet, now my dresses and jackets have a place of their own as well. I am SO HAPPY. My husband isn't too thrilled with the additional piece in our bedroom. It does tighten things up a bit – but I am ELATED. It's just an adjustment to get used to. Before we know it, we won't even notice it's there. 🙂
Let's Stay In Touch
Subscribe to get email updates! Receive weekly updates featuring my top posts, bonus exclusive content, and an occasional sneak peek behind the curtain!
My Wardrobe Closet Finally Arrived!
was last modified:
August 28th, 2014
by